Chellappa Gives Annual Spencer Talk at Univ. of Missouri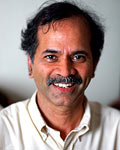 Minta Martin Professor of Engineering Dr.
Rama Chellappa
(
ECE
/
UMIACS
/
CS
) was invited to give the annual Spencer talk, hosted by the Department of Mathematics and Computer Science at the University of Missouri, St. Louis on May 3, 2010. The title of Chellappa's talk was "
Recent Advances in Face Recognition
."
In his talk, Prof. Chellappa discussed the progress made in still image-based face recognition, as well as the problems still facing the technology, such as photo illumination and subject aging. A complete abstract can be found here.
Published May 5, 2010