Davis Receives Poole and Kent Senior Faculty Teaching Award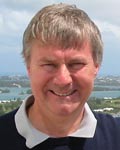 Professor Christopher Davis (ECE) has been awarded the 2012 Poole and Kent Senior Faculty Teaching Award. He was selected for this award in recognition of his contributions to the Clark School of Engineering as an exceptional engineering educator, and was presented with the award at the Commencement Ceremony on May 21, 2012.

Dr. Davis has successfully brought the passion of his research into the classroom through the development of the Electrical and Computer Engineering Department's optics and photonics program. Regularly teaching at both the undergraduate and graduate levels he has influenced the education of many ECE students through courses on electromagnetics, optical system design, lasers, quantum mechanics, and quantum electronics. His "The Light Fantastic: Light, Optics, and Lasers" course has also been popular among Honors freshmen. Professor Davis has also had an enormous impact through his mentorship of students in the Keystone program focusing on basic circuit theory, and as former Director of the Gemstone program.

Professor Davis's current research includes optical and RF directional wireless, real-time advanced surveillance systems with "event" detection, the optical properties of nanostructures where surface plasmons can be excited, near-field scanning optical microscopy, laser interferometry, dielectrometry, fiber sensors and biosensors, magnetooptics, optical trace detection, atmospheric turbulence, optical communication systems and devices, and biophysics.
Recent graduate Mohammed Ali Eslami describes Professor Davis as practical and understanding. He continues, "I feel that his "work at your own pace" management style and experimental importance has really widened the opportunities I have to consider as I transition to the work place, as I am now ready to both simulate my hypothesis as well as have a good feel for what it takes to make it practical."
Professor Davis' graduate advisee, John Rzasa, says, "Working for Dr. Davis over the years has been one of the most rewarding and enjoyable experiences of my life. His combination of cheerful demeanor, boundless intellect, and clever engineering skills make working for him a true joy. I think his approachability greatly inspires his undergraduate and graduate students to ask questions and learn well, whatever the subject may be."
For more information about Professor Davis and his accomplishments as a teacher, scholar, and researcher, visit: http://www.ece.umd.edu/meet/faculty/davis.php3
Published May 25, 2012