Distinguished Teaching Assistants Honored at University Ceremony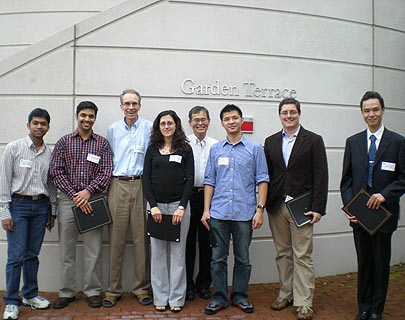 ECE Graduate Teaching Assistants
Graham Alldredge, Kapil Anand, N. Prasanth Anthapadmanabhan, Domenic Forte, Anna Pantelidou, John Shiu, Chris Stanford
, and
Shilin Zhu
have been selected as 2007-2008 Distinguished Teaching Assistants by the University of Maryland's
Center for Teaching Excellence
.
The award winners were selected based on nominations from faculty and students, as well as outstanding teaching evaluations and supporting comments.
The graduate students received their certificates and were formally honored at the annual Distinguished Teaching Assistant Ceremony on Wednesday, May 14, 2008 on campus at the Alumni Hall of the Samuel Riggs IV Alumni Center.
The awards were sponsored by CTE, the Dean for Undergraduate Studies, and the Dean of the Graduate School.
More information about CTE's Distinguished TAs program can be found at: http://www.cte.umd.edu/grants/DTAAward.html.
Published May 15, 2008