ECE Alumnus' Research Displayed in Museum of Modern Art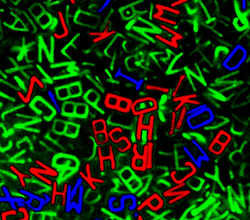 "I love the idea of science and art mixing together."
ECE alumnus
Thomas Mason
, B.S., E.E., 1989, professor of physics and chemistry and biochemistry at UCLA, recently had his research exhibited at New York's Museum of Modern Art, or MoMA.
"Lithoparticle Dispersions: Colloidal Alphabet Soup," an exhibit of Mason's research of particles in viscous liquid, was recently featured at the modern art museum. The research was conducted by Mason and graduate student Carlos Hernandez.
"I love the idea of science and art mixing together," said Mason, an associate professor of chemistry and physics who holds UCLA's John McTague Career Development Chair. "When MoMA asked me to participate in the exhibition, I thought that was amazing. Carlos and I are honored."
In "Colloidal Alphabet Soup," microscopic fluorescent particles in the shape of letters of the alphabet are suspended in liquid. The letters are clearly defined, an extraordinary feat considering the extremely small size of the particles. Mason described the letters as "a thousand times smaller than nine-point Times New Roman font."
The dispersion of particles in liquid is not a novel concept, but the display is significant because it demonstrates that the dispersion can now be designed. The particles of the letters in "Alphabet Soup," are designed by light, allowing complex shapes to be formed. They are then lifted completely off the plate on which they were created and put into liquid.
"It's a statement," Mason told UCLA's Daily Bruin. "We're no longer bound by synthetic methods of the past. We can do something much more complicated."
The display of "Alphabet Soup" at the Museum of Modern Art is the culmination of a project that Mason has been working on since he arrived at UCLA five years ago. He graduated from the University of Maryland with a degree in electrical engineering and continued on to do graduate work in physics at Princeton.
Published April 15, 2008