ECE Graduate Student Heba Yuksel Wins Research Excellence Award at SPIE Conference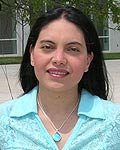 ECE Ph.D. student
Heba Yuksel
, who is advised by ECE Professor
Christopher Davis
, recently presented two papers at the International Society of Optical Engineers (SPIE) Optics and Photonics Meeting in San Diego, July 31 - August 4, 2005. For her efforts, she received a Research Excellence Award, which included a cash award to pay for her expenses in attending the meeting. The award was presented to Heba by Newport, Spectra-Physics, a division of Newport Corporation, and SPIE.
The travel grant award is open to students who present an accepted paper at the SPIE Optics & Photonics Symposium or Photonics West. Recipients are selected based on both the quality of the original research described in their submitted paper(s) and financial need.
For more information, visit:
http://oemagazine.com/fromTheMagazine/current/spieworld_online.html.
Published September 23, 2005