ECE Helps Maryland Day Go Green, Welcomes Crowd of Over 97,000 Visitors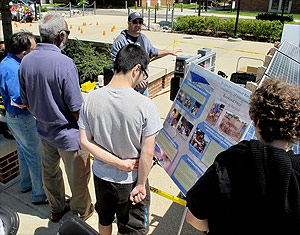 See photos from Maryland Day

On Saturday, April 30, 2011, the Department of Electrical and Computer Engineering (ECE) offered Maryland Day visitors a look at technologies of the future, including exhibits and demonstrations entirely powered by solar energy, thanks to the Maryland Educational Solar Array (MESA) project directed by ECE Director of Technical Operations Bryan Quinn. Quinn and several volunteer students from Engineers Without Borders put together a solar array outside on the Jeong H. Kim Engineering Building Plaza that powered engineering exhibits using only energy from the sun.

Maryland Day attracted an estimated 97,000 visitors this year on a beautiful, sunny day, with temperatures in the 70s. Visitors browsed exhibits outside on the Jeong H. Kim Building Plaza as well as indoors in the main lobby and laboratories on the second floor. On the plaza, bright orange cones outlined a racetrack for the Maryland Cooperative Autonomous Vehicle Systems demonstration put together by students of Prof. Gil Blankenship, which included a walking robot this year, while ECE student musicians played throughout the morning and afternoon, showing off the electric guitars they helped design with Prof. Bruce Jacob.

Prof. William Levine and Engineer Jay Renner offered visitors a look at their inverted pendulum from the BAE Systems Controls Instructional Laboratory. Graduate students from the Comcast Multimedia Signal Processing Lab, including Steve Tjoa, who is advised by Prof. Ray Liu, showed off their latest invention in music information retrieval. Prof. Reza Ghodssi and students from his Micro-Electro Mechanical Systems (MEMS) Sensors and Actuators Lab showed off examples of cutting-edge MEMS technology such as a micro-motor the size of a nickel, a micro gas turbine, a micro-battery made from virus particles, and biosensors for detecting DNA and bacteria.

Students from Prof. Shuvra Bhattacharyya's Digital Signal Processing Computer Aided Design Lab offered visitors a look at how a ubiquitous wireless sensor network works and how it can change lives. Prof. Christopher Davis and the Maryland Optics Group (MOG) provided guests a look at various kinds of lasers in action, and taught them about new ways of using lasers for optical communication and sensing, such as high definition real time surveillance including image capture and wireless image transport. Maryland Hybrid Networks Center (HyNET) Director Prof. John Baras and his students showed off a new technology for authentication of the biometric acquisition device to counter security threats in biometric authentication systems, and a systems biology model for monitoring Alzheimer's disease progression over the course of several decades, as well as a demonstration of wireless security with software defined radio.

The Maryland Cybersecurity Club, regional champions in the recent Mid-Atlantic Collegiate Cyber Defense Competition, offered an indoor exhibit for visitors in the Kim Building's Innovation Hall of Fame. The IEEE and Eta Kappa Nu student groups offered a Laser Obstacle Course in the Kay Boardrooms. Visitors lined up outside of the Kay Boardroom throughout the day to give the obstacle course a try to the theme of "Mission Impossible."

The MESA solar array provided over 2.25kW hours of green power and had the capacity available to provide three times that amount. The MESA project will soon install a solar array on the roof of the A.V. Williams Building as part of an alternative energy teaching curriculum, which will ultimately expand into wind and kinetic energy generation. The facility will support courses through the Department of Electrical & Computer Engineering, including an energy/power survey course open to all students. Students will get hands on experience designing and testing alternative energy systems. MESA has already performed demonstrations for courses in the Honors College. When not in use for educational purposes, the facility will be open to researchers and community outreach events. Additionally, the MESA project coordinators are in the process of constructing a mobile unit to take to area schools and community events as an educational outreach tool.

To see photos from Maryland Day, visit http://goo.gl/AGmcO.
Published May 2, 2011