ECE Student Receives Sujon Guha Memorial Award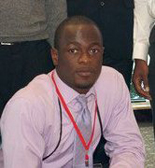 A research paper entitled, "Comparative Analysis of Different Hybrid Energy Storage systems for Electric Vehicles," written by recent ECE graduate, Tshikuna Muanankese, won the 2011-12 best paper in electrical engineering as part of the Sujon Guha Memorial Award for Academic Excellence and Outstanding Leadership.
Muanankese worked with Professor Alireza Khaligh in his Power Electronics, Energy Harvesting and Renewable Energies Laboratory. Upon graduating, Muanankese received a double degree in Electrical Engineering and Mathematics. He accepted a position with ExxonMobil Research and Engineering with plans to join the company this summer. In addition to his academic pursuits, Tshikuna also participated in a number of other collegiate programs including: Quest Honors Fellows, Hinman CEOs, National Society of Collegiate Scholars, National Society of Black Engineers, and Eta Kappa Nu Honor Society.
He is a recipient of a National Science Foundation Louis Stokes Alliance for Minority Participation Program Fellowship. His research interests include modeling, design and development of power electronic converters for plug-in hybrid electric vehicles.
Published June 13, 2012