ECE Students Dive Into Communications Design Course With a New Lab Sponsored by Hughes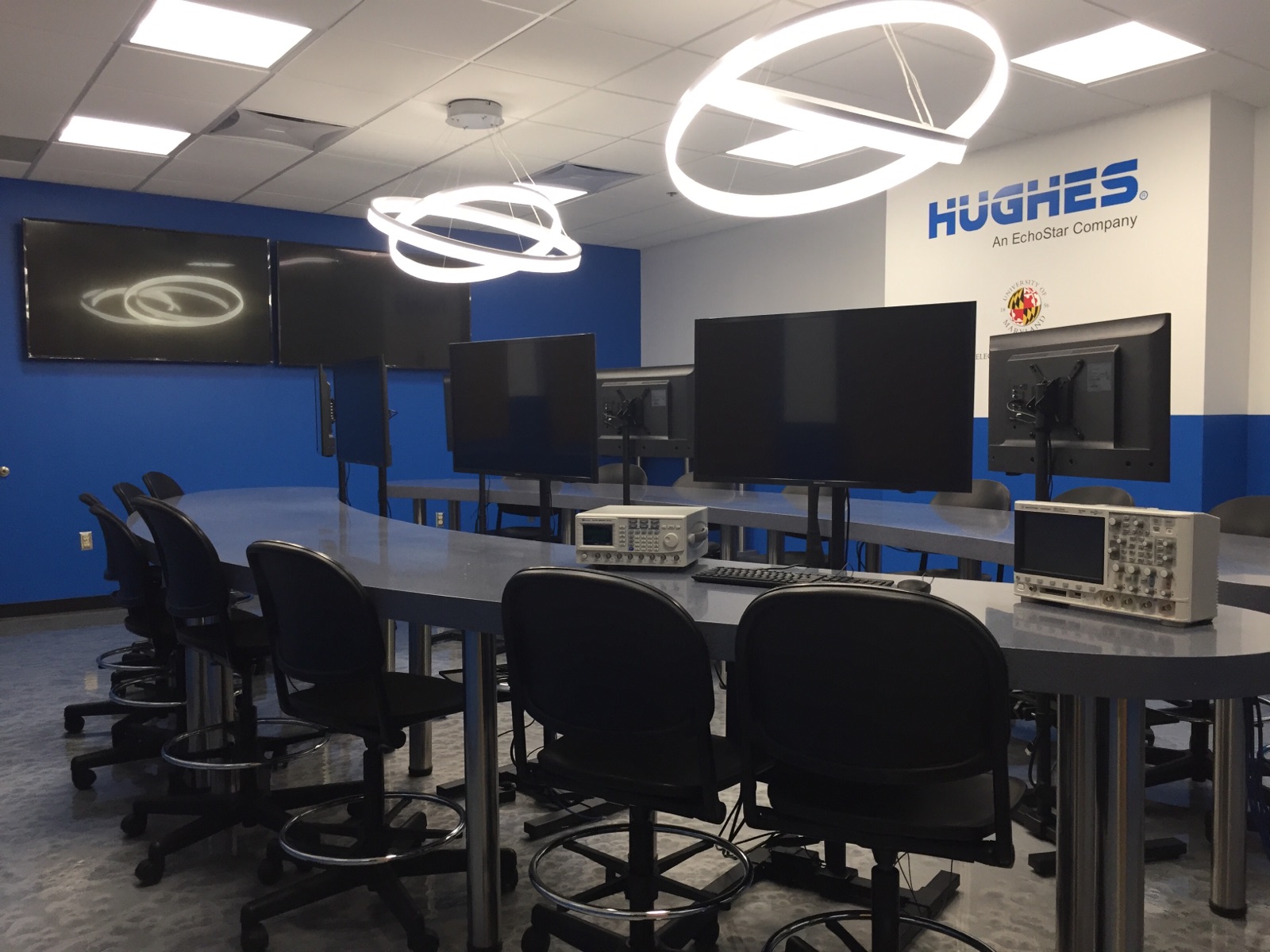 On October 13, 2017, the University of Maryland's Department of Electrical and Computer Engineering (ECE) in the A. James Clark School of Engineering celebrated the opening of a newly designed laboratory for its Communications Design Course, ENEE428, thanks to Hughes Network Systems (HUGHES). Located on the first floor of the A.V. Williams Building, the new lab allows students to gain experience using a variety of equipment common to the telecom industry, such as signal generators, spectrum analyzers, error rate test sets, channel simulators and digital signal processors.
Professor Steve Tretter, who has been the instructor for ENEE428 for many years, said of the lab, "The Communications Design Laboratory is one of my favorite classes to teach. I am so thrilled with the new design of the lab, and thankful to Hughes for this sponsorship. It will be wonderful to work with the students in this state-of-the-art space and to collaborate with Hughes on examples of problems facing the communications industry."
Using computers at two semicircular, high-top table stations, perfect for fostering collaboration in pairs, students in the ENEE428 senior-level elective course are able to implement the theoretical concepts presented in Communications Systems (ENEE420) and Digital Signal Processing (ENEE425) on actual hardware in real time. Once an experiment is completed, students will use a workstation to demonstrate that the implementation is working correctly, and they will then be assessed on completed individual written lab reports.
Paul Gaske, Executive Vice President and General Manager, Hughes North America, and an ECE alumnus commented, "We are very proud to support this advanced capability of the ECE's lab facilities and to play a role in educating the next generation of communications engineers. They will help companies like ours stay in the forefront of technology innovation, working to improve and extend communications access for communities around the globe."
Hughes is the world's leading provider of satellite broadband for home and office, and the company is a longtime corporate affiliate of the ECE Department as well as being a top employer of recent ECE graduates and interns.
This is the third lab renovation of an ECE undergraduate lab in as many years. The gift for ENEE428 included funds for the construction of the redesigned space and an endowment to secure the most current equipment and upkeep for the lab. Professor Rama Chellappa, chairman of the ECE Department, said, "Paul and Hughes have been longtime friends and partners of ECE and the Clark School. The new Communications Design Lab sponsored by Hughes solidifies their place as a top partner," added Tretter. "Hughes has also done a great service for current students and future students who will take this course. The redesign of this lab shows the commitment the department and its sponsors have to educating future engineers."
Published October 13, 2017