Ephremides Speaks at University of Minnesota, IBM Research Center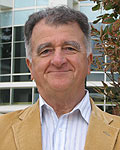 Professor
Anthony Ephremides
(
ECE
/
ISR
) gave an invited distinguished lecture at the University of Minnesota for the Digital Technology Center Innovators Lecture Series on Friday, February 29, 2008.
Dr. Ephremides spoke on "Network Coding: A New Paradigm for Networking." Network coding represents a potentially revolutionary development in the field of communication networks, breaking free from the paradigm of the IP architecture. His talk analyzed network coding in the context of both wireline and wireless networks and examined what the technical roadblocks and applications.
More information about the talk, including the presentation slides, can be found at the University of Minnesota website.
Prof. Ephremides also gave an invited talk on Friday March 21 at the T. J. Watson IBM Research Center in Hawthorne, NY, titled: "New and Exciting ideas in Wireless Networking - The Longer View."
Published March 14, 2008