Gomez, Fuhrer and Alumni Awarded Patent for DNA Microarray Apparatus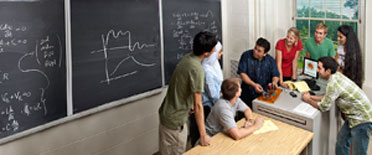 Professor Mel Gomez, together with ECE alumni Drs. Herman Pandana, Konrad Aschenbach, Professor Michael Fuhrer (Physics), and Drs. Jun Wei and Javed Khan of the National Cancer Institute have been awarded U.S. Patent #8,017,938, titled "Apparatus for microarray binding sensors having biological probe materials using carbon nanotube transistors." This patent is assigned to NIH and the University of Maryland, College Park.

The central dogma in molecular biology is that DNA is transcribed to ribonucleic acid (RNA), and the information in the RNA is used to make proteins, by a process called translation. Since the function and metabolism of the cell is regulated by the protein produced in the cell, many diseases caused by gene mutations, such as cancers, can be studied by monitoring the gene expression. It is thus important to know the particular gene or genes that contribute to a certain phenotype, and the abundance. High throughput gene identification methods such as microarrays and gene chips enable researchers to quickly identify the genes that undergo mutations in a certain disease. These methods are also used in comparative gene expression studies that compare the level of specific genes between different cancerous or healthy cells, for example. But while these tests are invaluable for research and diagnosis, the costs associated with reagents, equipment and labor are high.

The invention detects genes by measuring the intrinsic electric charges that exist along the phosphate-sugar backbone of the DNA or RNA. It uses carbon nanotube transistors that are encapsulated by a thin insulator and preloaded with nucleic acid probes that are designed to capture specific gene fragments. Their method does away with fluorescent dyes or other reporter molecules for tagging the gene fragments, thus significantly simplifying the protocols and lowering the cost of screening. The technique is also quite versatile and can be used beyond biomedical applications. The University of Maryland researchers have successfully applied it to determine if a particular breast tumor is "Her2/Neu positive" as well as for screening for Shiga-toxin producing E.Coli strains.

The concept for this project was conceived in 2004 when Dr. Gomez was on sabbatical at National Institutes of Health. Coming to fruition as an invention has required the work of many clever and persistent people. This invention may impact healthcare diagnosis by lowering the cost of genetic screening. Other potential benefits include the abilities to rapidly screen pathogens in food supplies, water supplies and the environment; screen for viruses and serve as another weapon against potential epidemics.

For more information about this invention, visit http://ter.ps/gomezpatent.
Published October 27, 2011