Hyperfine Begins Trading on the Nasdaq Global Market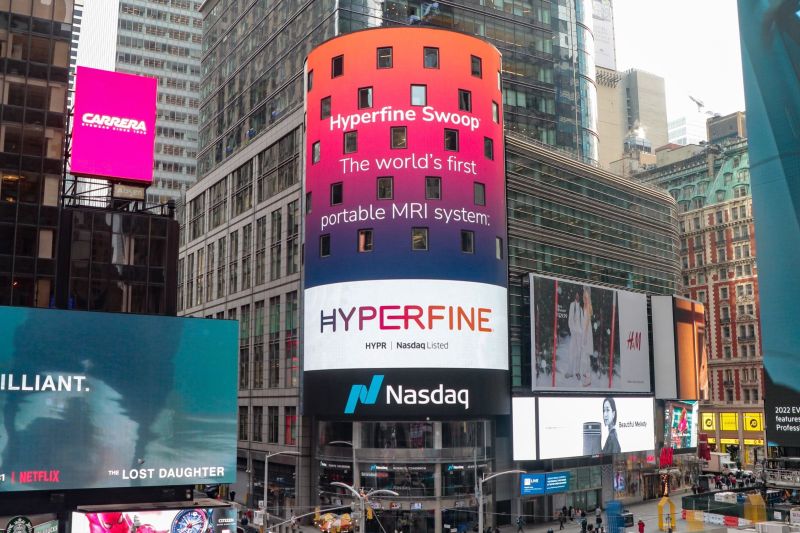 On December 23, 2021, Hyperfine, an innovative medical device company based in Guilford, Connecticut, began publicly trading on the Nasdaq stock exchange under the symbol "HYPR".
The company was co-founded in 2014 by UMD Professor and Quantum Technology Center (QTC) Director, Dr. Ronald Walsworth, along with Dr. Matthew Rosen and Dr. Jonathan Rothberg. Dr. Rosen is director of the Low Field MRI and Hyperpolarized Media Laboratory at Massachusetts General Hospital/Martinos Center for Biomedical Imaging; and is also a QTC affiliate scientist. Dr. Rothberg is a serial entrepreneur, founder of biotech incubator 4Catalyzer, and was previously awarded the National Medal of Technology and Innovation by President Barack Obama.
Hyperfine's first commercial product, the Swoop® portable magnetic resonance imaging (MRI) device, is designed to address the limitations of current imaging technologies and make MRI for brain imaging accessible anytime, anywhere, to any patient. Hyperfine created the next generation of MRI by addressing the challenges of conventional MRI and bringing MRI to the patient's bedside. The Swoop MRI is the first device of its kind to garner FDA clearance.
The initial academic research that led to the Hyperfine Swoop MRI technology was performed in the Walsworth group between 1995 to 2009. "We are proud of the growth of Hyperfine and the development of the Swoop MRI, which is a great demonstration of how academic research can lead to high-impact technologies in the real world," says Walsworth.
Published January 7, 2022