Iliadis Receives Patent for System that Protects Devices from Interference Signals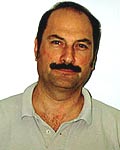 ECE Professor Dr.
Agis Iliadis
has been issued
U.S. Patent 6,968,157
for his invention titled "On-Chip Input/Output Microwave Interference Sense and Protect Circuit," which offers a method for protecting devices from interference signals.
The interference protection system rejects microwave or radio frequency interference signals and is embedded into a sealed packaged chip at a susceptible port. Dr. Iliadis' system includes a sense unit for detecting signals with amplitudes exceeding a predetermined threshold level, as well as a protection unit that switches off once the sense unit detects the interference event. A registry unit is included for registering interference events.
The University of Maryland's Office of Technology Commercialization (OTC) provided assistance in securing the patent. OTC helps facilitate the transfer and commercialization of information, life and physical science inventions developed at the University of Maryland. Since its inception in 1986, OTC has received more than 1,300 invention disclosures, secured more than 270 U.S. patents and licensed more than 750 technologies, generating more than $21.7 million in technology transfer income.
Additional information about the patent can be found online at the U.S. Patent and Trademark Office web site, www.uspto.gov.
Published November 30, 2005