JaJa Team Receives Grant for Digital Preservation Research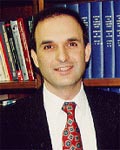 A research team led by Dr.
Joseph JaJa
(
ECE
/
UMIACS
) has received a grant from the National Science Foundation (NSF) and Library of Congress to fund digital preservation research. The grant was awarded to the group "for exploring automated collection and verification methods for distributed digital collections."
The group's new management architecture will create a secure archive that provides producers, site administrators, and preservation managers key functionalities for the long-term access and preservation of digital assets.
Dr. JaJa's research team was one of eleven university teams researching digital preservation to receive an award. In all, the Library of Congress and National Science Foundation awarded $2.8 million to fund digital preservation research initiatives. Dr. JaJa's team was awarded $490,157, one of the largest grants awarded to any of the university groups.
Published May 10, 2005