McKinney Receives High Honors from University System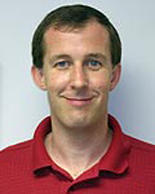 Recently Jeff McKinney, director of computing for ECE, ISR, Physics and Math, received a 2011 Board of Regents Award. This prestigious award is the highest honor the Board bestows to publicly recognize distinguished performance and faculty achievements. Only eight recipients from the entire Maryland University System are selected to receive this honor.
University employees are nominated by their campus community. The Council of University Systems staff chooses to impart the award based on four categories including: exceptional contribution to the employee's institution or unit, outstanding service to students in an academic or residential environment, extraordinary public service to the university or greater community, and finally, effectiveness and efficiency in academic or administrative transformation.
After 7 years of working to improve the technological resources and performance for the aforementioned departments, McKinney received the award for effectiveness and efficiency in administrative transformation. When asked about his reaction to receiving the award, McKinney states, "I feel flattered to be recognized and I'm thankful for the opportunities I have had at UMD. My team (including our excellent student workers) is great and they are the ones that enable such an organization to efficiently and effectively serve the 4 units." His hard work has incited transformational change in the units he manages—four units now run effectively with less than half the previous staff. All award recipients will receive a plaque and a monetary award.
Published July 18, 2011