Munday, Ha, and Collaborators' Research featured on the Cover of ACS Applied Materials and Interfaces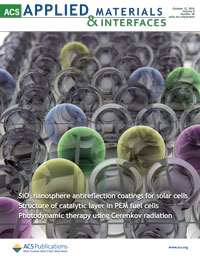 If you have ever had a conversation in a room with a domed roof, you may have noticed that your whispers can travel across the room and be heard by a friend on the other side. Lord Rayleigh first described this phenomenon in the early 1900s in terms of interfering sound waves to explain the observed effect within St Paul's Cathedral in London. Now in the October 12 cover article of ACS Applied Materials & Interfaces, Dongheon Ha (ECE/IREAP) of the Munday Lab shows that this phenomenon can be applied to light waves to improve the electrical response of a solar cell.
In this recent paper, Dongheon Ha and Prof. Jeremy Munday (ECE/IREAP), in collaboration with Chen Gong (MSE/IREAP) and Prof. Marina Leite (MSE/IREAP), show that the absorption in a solar cell can be improved by up to 20% by coating it with an array of glass nanospheres (100 times smaller than the width of a human hair), which allow light to be trapped inside the sphere and leak into the solar cell. Munday says, "This result shows that we can measure the resonant coupling between the light, the spheres, and the solar cells electrically through an increase in the photocurrent. The process is simple and scalable, so it can easily be applied to other types of device." To view the article, go here.
Munday and collaborators are currently exploring how individual spheres contribute to the collective effect in hopes of achieving ultra-high efficiency coatings.
ACS Applied Materials and Interfaces serves the interdisciplinary community of chemists, engineers, physicists and biologists focusing on how newly-discovered materials and interfacial processes can be developed and used for specific applications.
Published October 12, 2016