Switchable Solar Window Research Featured on the Cover of ACS Photonics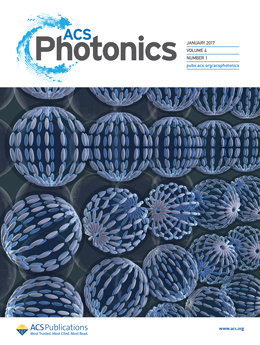 Self-powered switchable solar window research conducted by former graduate students Joseph Murray (UMD, Ph.D. 2016) and Dakang Ma (UMD, Ph.D. 2016) in the Department of Electrical and Computer Engineering and, along with Professor Jeremy Munday (ECE/IREAP), was published online October 26, 2016, and is featured on the cover of the January 18, 2017 issue of ACS Photonics. The team of researchers created a new smart window that can turn opaque on demand and even power other devices.
The device, which enables electrically controllable light trapping, consists of a polymer dispersed liquid crystal whose transparency is controlled by the application of an applied electric field, changing from opaque to transparent. In the OFF state, the device is capable of providing privacy and power through increased optical absorption within the semiconductor. In the ON state, the device becomes transparent, due to reduced light scattering and trapping, while still providing enough absorption for self-powering.
Read more about their research here.
Published January 24, 2017