Orloff Delivers Series of Lectures on Ion Beams at PASI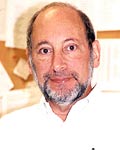 ECE Professor
Jon Orloff
(
ECE
/
IREAP
) spoke at the Pan American Advanced Studies Institute (PASI) on Ion Nanobeams held in Buenos Aires, Argentina, February 20-24, 2006.
International experts in the field of finely-focused ion beams were invited to the event to address the needs created by the advent of the nanoscience and nanotechnology era.
Orloff gave three lectures on the subject of high-resolution ion beams. Two of the lectures focused on the properties and physics of high brightness ion sources, while the third addressed high resolution imaging with ion beams.
The PASI program is a jointly supported initiative between the Department of Energy (DOE) and the National Science Foundation (NSF). PASIs are short, two to four-week courses involving lectures, demonstrations, research seminars and interdisciplinary discussion at the advanced graduate and post-doctoral level. PASIs aim to disseminate advanced scientific and engineering knowledge and stimulate training and cooperation among researchers of the Americas in the mathematical, physical, and biological sciences, and in engineering fields.
For more information about the PASI on Ion Nanobeams, visit http://www.nanobeam-pasi.org/.
Published March 28, 2006