Oruc Creates Turkish Election Tracking Application for Apple Devices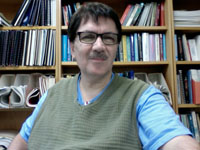 Dr. Yavuz Oruc, University of Maryland professor of electrical and computer engineering, has collaborated with two Bilkent University students, Ali Çevik and Mert Küçük, to create an application for Apple® devices that will predict and track the progress of the Turkish elections taking place on June 12, 2011.
The iPhone and portable Apple device application, Whowon-Türkiye, will provide real-time election results allowing users to view the number of seats contested by the parties in each city, region and the entire country, plus the list of candidates for each party.
The latest version of the app is under review for approval by Apple's app store. The new version incorporates an update allowing users to determine the number of seats that would be won by each party and the leading or losing candidates in each race before the elections as well as after the elections are over. As ballots are being counted, the app will provide raw election results and make projections for each city, region, and entire country with minimum, maximum and possible numbers of seats that would be won by the parties. The raw voting data will be received from Anatolia News Agency, and processed instantly to provide a continuous flow of election results to Whowon-Türkiye users.
Professor Oruc plans to develop a similar application to track the US elections next year on Apple® devices and other smart mobile devices.
Whowon-Türkiye is a free app and can be downloaded by opening the App Store app on an iPhone®, iPad® or iPod touch® and entering the keyword "Whowon-Türkiye" in the search box. It can also be downloaded using iTunes® on a PC or Mac®.
Published June 10, 2011