Srivastava Earns Tenure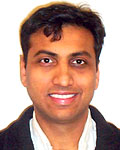 University of Maryland President
C.D. Mote
has approved the promotion of Assistant Professor
Ankur Srivastava
(
ECE
/
ISR
) to the rank of Associate Professor with tenure.
"I am pleased to congratulate him for this well deserved promotion," said Patrick O'Shea, professor and chair of the ECE Department. "We all look forward to working with him for many decades to come."
Dr. Srivastava received a B.S. in Electrical Engineering from the Indian Institute of Technology Delhi in 1998, an M.S. in Electrical and Computer Engineering from Northwestern University in 2000, and Ph.D. in Computer Science from University of California Los Angeles in 2002. Srivastava's research areas include VLSI design automation techniques and algorithms for low power and high performance integrated systems. His primary focus is on fabrication variability and manufacturability concerns in VLSI. He is also working on low power sensing strategies for real time tracking applications.
Published February 18, 2009