Student Spotlight: Ashley Henriquez, EE '22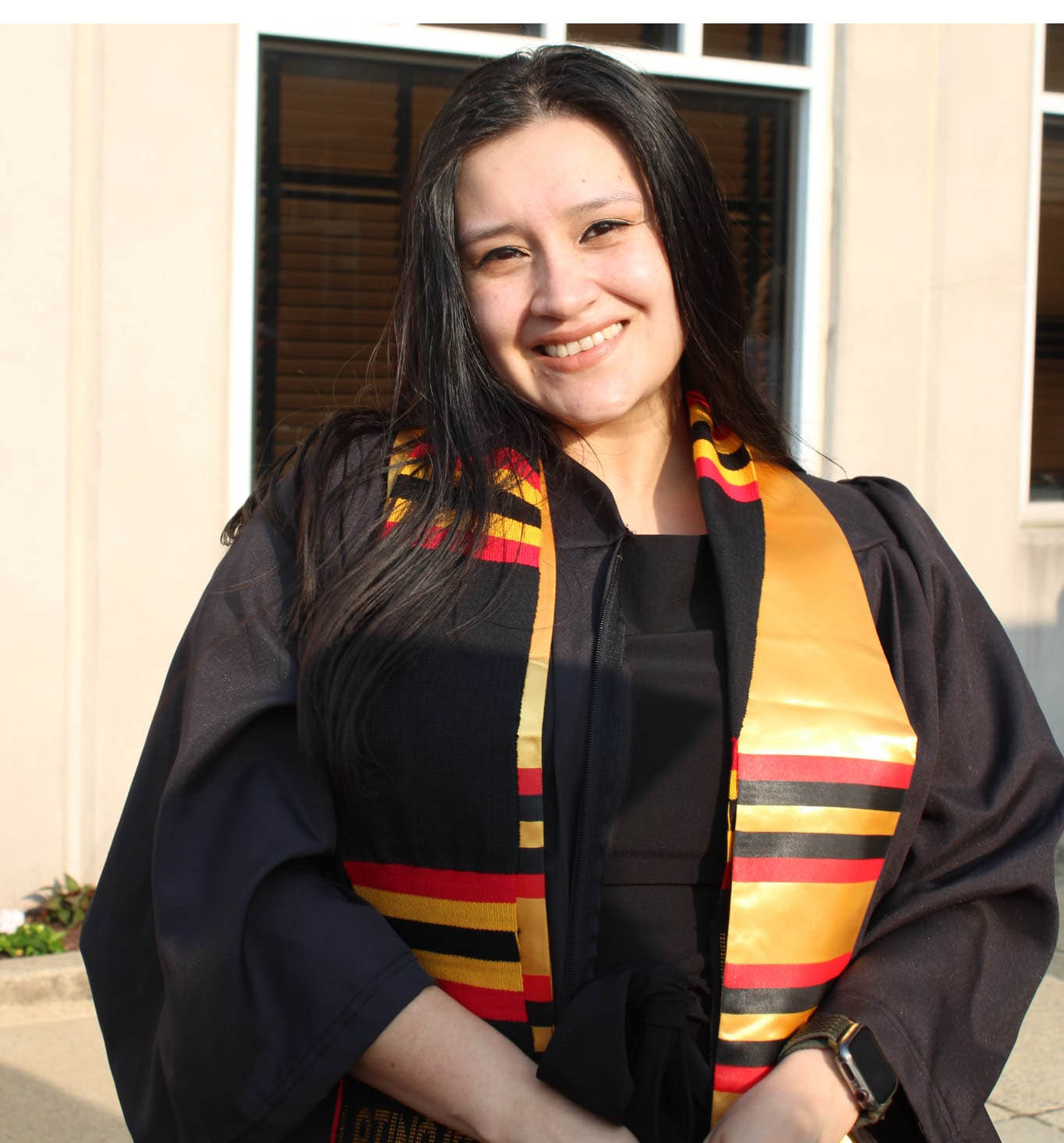 Resilient, determined, courageous – these are some of the words that come to mind after talking to recent ECE graduate Ashley Henriquez. After following a non-traditional route to attain a college degree, Henriquez demonstrates that there are many paths to success and that one size does not fit all when it comes to higher education.
High School was a challenging time for Henriquez. After the birth of her daughter when she was 15, she did not complete high school and began working in a fast-food restaurant in order to provide for her daughter. Previous to her daughter's birth, she was introduced to the Latin American Youth Center of Prince George's County. There she received the support needed to complete the GED and learn about job opportunities that prepared her for the next phase of her life. Believing that her interests were in business administration or retail, she was hired as an administrative assistant for a minority-owned civil engineering consulting firm. There she was exposed to an overview of the technical aspects of engineering.
A year later, Ashley decided to enroll in Prince George's Community College (PGCC) to study business administration. However, at the same time, she was beginning to envision engineering as a field that she could see herself studying. Realizing that she would need a stronger background in math since she had not been exposed to higher-level math in high school, she began with the lowest level and started building her skills. After struggling through intermediate algebra, she notes "something finally clicked and math started to make sense". It became one of her strongest subject areas.
After six years at PGCC, she graduated with an Associate Degree in Engineering. During that time, she continued to work full-time at the consulting firm and was busy raising her daughter. "I did have to sacrifice a lot. Working full-time, then going to school part-time. It just left me very little time with her". She is grateful for the full support of her family and recognizes that it truly "takes a village" to care for children.
Through the Maryland Transfer Advantage Program, Ashley began her study at UMD in the College of Letters and Sciences. However, a health scare forced her to take some time off. Fortunately, she was able to rebound and continue her course of study. She then applied to the Clark School of Engineering, planning to major in computer engineering. After discovering that she preferred the more hands-on aspects of electrical engineering, she continued her studies in that field. Her entry into the engineering program coincided with the beginning of Covid, so she faced the additional challenges of learning remotely.
Internships are an important supplement to any engineering degree, and Henriquez took full advantage of these opportunities. Her first summer internship involved research in computational chemistry in the UMD Chemistry Department. That was followed by internships with the Center for Integrated Quantum Materials, a joint endeavor between Harvard, MIT and Howard University, as well as with the Aerospace Corporation, where she studied astrodynamics using Fortran. Most recently, a sixteen week internship with Brookhaven National Laboratory saw her working on the fabrication of quantum parts and self-assembly of nanostructures.
In addition to earning her electrical engineering degree, she completed a Certificate in Latin American and Caribbean Studies. She was also a peer mentor with the Center for Minorities in Science and Engineering (CMSE) and was awarded the CMSE Leadership Award in 2021.
Looking forward, Henriquez started a full time employment with L3 Harris, where she will be working as an associate electrical engineer for logic design in the Space and Airborne systems division. She also plans to eventually apply to masters and Ph.D. programs with emphasis on quantum engineering.
When asked for advice that she would give to other students, she has several impactful takeaways from her time as a student. First, she believes for asking for help when needed. She found many people who wanted to help, and says "the kindness of strangers that I have received in my life has been immense, and I couldn't have done whatever I did without them". She especially credits the support she received from her professors, who understood and supported the challenges of being a young mother and student: "I'm really grateful that the professors really helped me grow as an engineer, as a student, and they really gave me faith and hope. As I mentioned before, the kindness of strangers."
And her biggest pieces of advice: "make friends", which she believes is especially important, as well as challenging, for transfer students. She talked about the difficulty of transferring in as a junior, when other students have known each other since their freshman year. Reaching out to other students can be hard to do, but eventually they may have the answers you're looking for or can help with assignments. Also, stay open-minded. As a final thought, she added "just remain open-minded. It's very important to remain open-minded and to make new friends and be open-minded towards professors".
Published June 5, 2023