Terps Racing Team Members Attend Practice Sessions Leading up to the 2017 Indianapolis Time Trials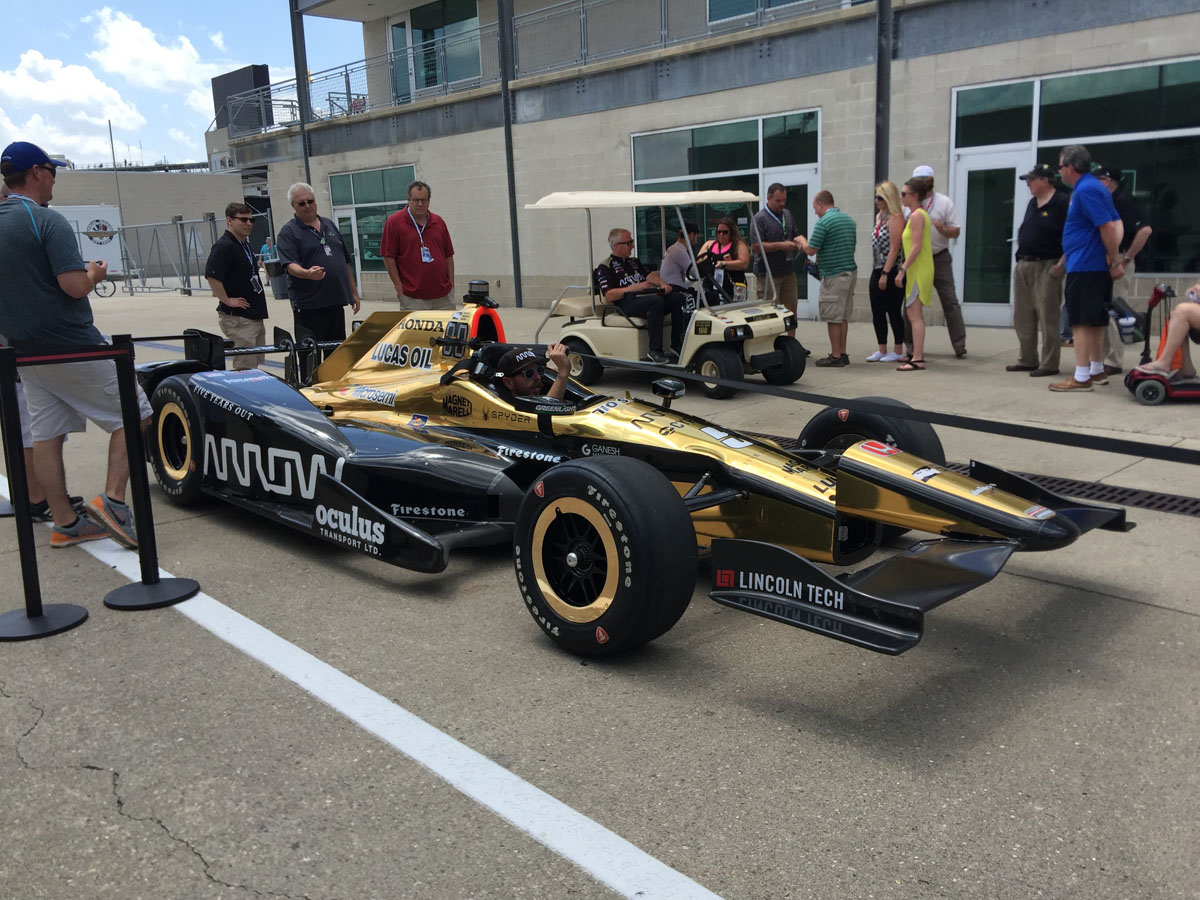 On May 18, 2017, Electrical and Computer Engineering (ECE) students Michael Dipalo, Konrad Anderson, and Sean Stanley, and Mechanical Engineering student Benjamin Strobel of the University of Maryland (UMD) Terps Racing Team, traveled to Speedway, Indiana to attend practice sessions held just a few days prior to the Indianapolis time trials, eventually leading up to the annual Indianapolis 500.
The trip was organized by John Barnes, a longtime racing enthusiast and former Indy Team Manager of Panther Racing, and Captain Leonard J. Hamilton, Associate Professor in the Mechanical Engineering Department at the United States Naval Academy and UMD Adjunct Associate Professor in Mechanical Engineering, as well as the Terps Racing Formula Team Faculty Advisor. The hosts, Schmidt Peterson Motorsports, an auto racing team in the Verizon IndyCar Series, took the students for a behind-the-scenes look at the practice sessions held before the Indy 500 time trials. The students were given garage access, plenty of time to speak with mechanics, and they were plugged into the radio of James Hinchcliffe's team (#5 at Schmidt Peterson) during the practice. They also spoke with the Front-End Mechanic of the #7 car about efficiency and time management. They expressed their excitement in the initiative to employ some of the Indy team's techniques to their own team, hoping to see the same great results!
"It was an incredibly unique experience to see what we do as a hobby here at Maryland as a profession, and to see how these engineers approach problems on their team," said Stanley.
In addition, Booz Allen Hamilton, longtime corporate affiliate of the Electrical and Computer Engineering Department at the University of Maryland, is now supporting Terps Racing. Booz Allen Hamilton has teamed up with Terps Racing Students to create a FSAE driver feedback system, meant to improve the performance of the Formula SAE vehicle as well as provide a nicer driver experience through the presentation of the vehicle instrumentation.
Terps Racing is an organization of students that design, build, test, and race Formula SAE and Baja SAE racecars. Team Formula is a student-led team based in and out of class to design, construct, test, and race a formula race car in national FSAE events. The Baja team represents University of Maryland in the Society of Automotive Engineers Baja Collegiate Design Series.
"Racing on the collegiate level is an incredibly valuable educational experience. When opportunities like these present themselves for professional development and networking in the field of racing, you begin to recognize the value of your experience" said Stanley.
The Terps Racing Team as a whole has been incredibly motivated by this experience, recognizing the importance and relevance of the work they do and how it is used in a professional level. They are excited to continue pursuing their racing endeavors and will, as always, keep going faster!
Published June 30, 2017