Switching Career Gears: From Electrical Engineering to Race Car Driving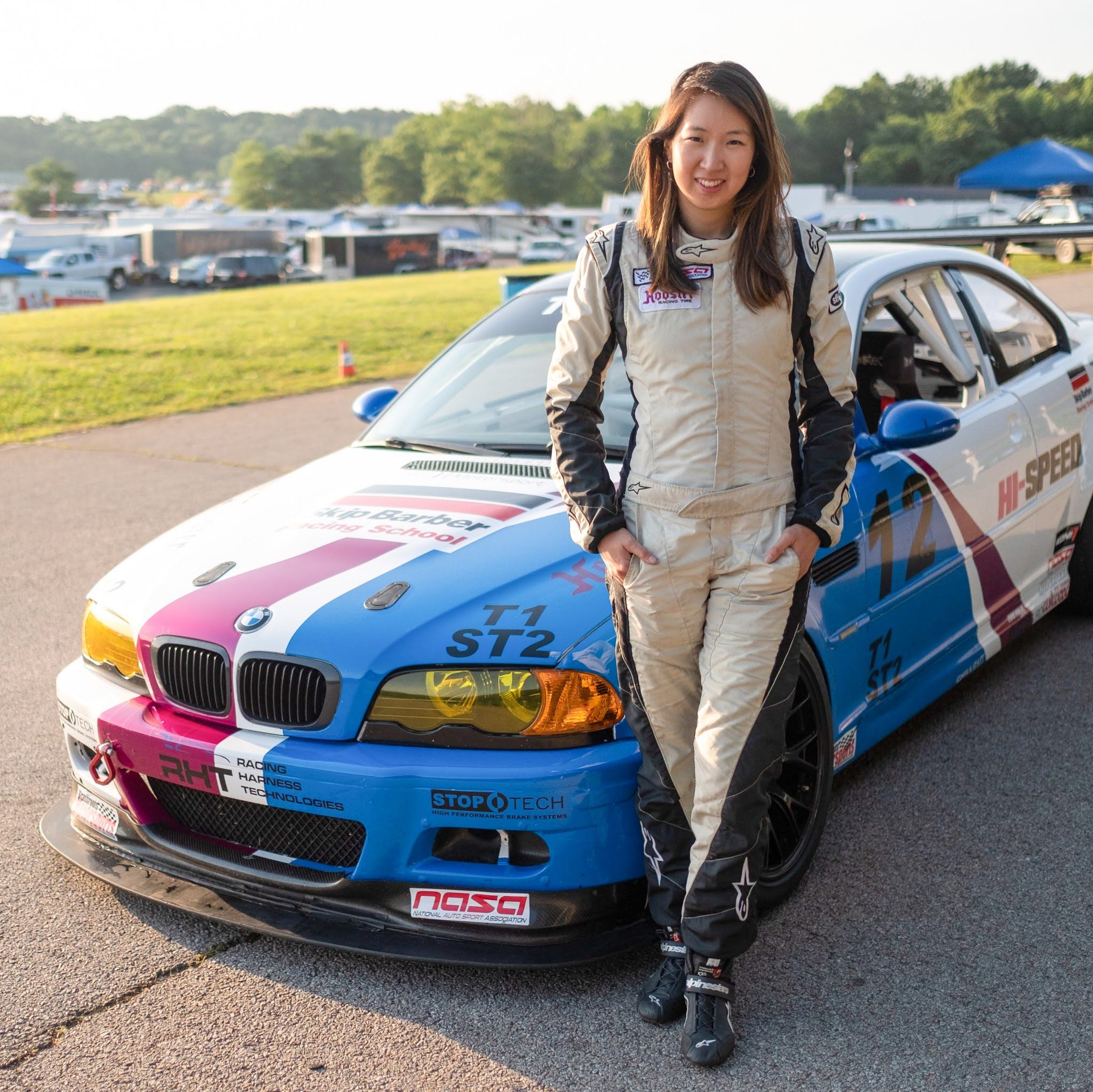 In 2012, Christina Lam ('11, electrical engineering) was on vacation in Germany and visited the Nürburgring, one of the most famous race tracks in the world, and learned how to drive manual in a Suzuki Swift race car. Inspired by her experience on the track, she returned home and dove headfirst into the world of motorsports, by purchasing a 1998 BMW M3 as a dedicated track vehicle. Christina rapidly learned to maintain, upgrade, and build her new car. Within a few short seasons, Christina built her M3 to be a serious track contender to compete in The National Auto Sport Association's (NASA) Time Trial program.
While Christina was seriously pursuing racing as a hobby, she worked for General Dynamics Advanced Information Systems from 2011-2014 as a systems engineer doing R&D, program design, and requirements. She then transitioned to work for Perspecta until 2018 as a test director conducting independent verification and validation of software systems. She also founded Christina Lam Racing in 2017, and is a driver, precision driver, and marketing manager for her company. She is currently a driver for Hi-Speed Motorsports where they design, and build championship winning race cars.
Christina currently competes in her Hi-Speed Motorsports built E46 M3 in the Sports Car Club of America (SCCA) Majors, Hoosier Super Tour, and NASA, and earned seven podiums in the 2019 season.
In 2018, Christina joined Skip Barber Racing, the premiere race car driving school for all racing and driving programs, as an instructor. She instructs race school programs and Hagerty Driving Academy for Skip Barber. She has also driven for MotorTrend as a precision driver for commercials.

In 2014, Christina began volunteering as official staff for NASA. She started by working registration and eventually moved to driving the pace car and assisting the Time Trial director. In 2018, she took on the chief position as Time Trial director of the NASA Northeast region. She has officiated for several national level races for NASA.
Christina received her BS degree in electrical engineering from the University of Maryland, College Park in 2011. While at Maryland, she served as chief financial officer and public relations chair of the Institute of Electrical and Electronic Engineers Chapter at UMD. She also participated in the Hinman CEOs Entrepreneurship Program where she learned the skills needed to start her own racing business.
What is the most rewarding and the most challenging part of racing?
Racing is 999 hours of hard work for 1 hour of incredible close racing. Car design and setup is the most rewarding part of racing. I get to put my technical knowledge and logic to the test with the car build and then reap the sweet reward of a fast race car.
Why did you choose to attend UMD and Major in ECE?
I chose to attend UMD and Major in EE because it is a highly ranked university with an incredibly strong Engineering school. Having always loved tinkering with electronics and excelling in math, it was the perfect fit. I was lucky enough to attend high school in Rockville so I had my sight set on the Clark School of Engineering for years. It was nice to attend one of the top engineering schools while also being close to home.
What are your best memories from attending UMD?
Students in the ECE department are some of the smartest I know. While we all moved onto different areas after college, the friendships formed during my years at UMD are ones that are still strong today.
How did your education at UMD prepare you for what you are doing today?
My education at UMD gave me the technical expertise to excel at my first engineering job with General Dynamics. The knowledge taught in my classes gave me the confidence to pursue other areas outside of my immediate engineering field. I utilize the theories from my physics and engineering classes in my race car build and design. Those same math skills apply when racing cars, you analyze the dynamics of competitors at 150mph to make a split decision on when to make a winning pass.
What advice would you give current students or recent graduates interested in pursuing a career in your current field?
Join the Terps Racing team! I wish I had joined this when I was in college. Several friends were a part of the SAE team and learned a ton. It is a great way to learn different aspects of motorsports and maybe even get behind the wheel!
What do you hope to accomplish next?
My goals are to take my racing to the next step with professional races with IMSA or Trans-Am. I'm a Women in Motorsports mentor for Bell Helmets and want to grow the program to introduce more diversity into the sport. In addition to the racing I plan on expanding our team to race across more classes and series to bring home more wins! I have my sights set on a championship this year and am excited to get back to the track!
Published May 12, 2020