TRX Systems Finalist in Security Challenge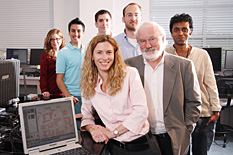 TRX Systems Inc. has been selected as a finalist in the Global Security Challenge (GSC) 2008 worldwide competition, university officials announce today.
TRX was founded by Prof. Gilmer Blankenship, professor and associate chairman of the A. James Clark School of Engineering's department of electrical and computer engineering. It is a leader in breakthrough technologies in first responder and rescuer indoor tracking.
The company is in the University of Maryland Technology Advancement Program (TAP) venture incubator, was selected from among five American semifinalists. Six finalists from around the world will compete for a $500,000 grand prize at the London Business School on November 13, 2008.
The GSC, organized by Global Security Challenge LLP, was created to find and select the most promising security technology startups in the world.
"Being recognized as one of only two companies to represent the United States in this worldwide competition is validation that TRX has put the right team behind a technology that has both significant commercial potential as well as societal benefit," says TAP director Dean Chang.
TRX's technology is an advanced personal tracking system that provides first responders with accurate and real-time locations of individuals deployed inside a building or structure. Consisting of personal worn devices and a central base station, the system helps in the rapid rescue of persons in distress or in life-threatening environments. TRX's technology is self-contained, requires no pre-existing infrastructure and can even create virtual floor maps in real-time.
The system also functions as a health monitor, detecting and alerting operators of personnel in distress. It automatically logs all data for replay, post-analysis and training.
"TRX is excited and proud to be selected as a finalist in the prestigious GSC," says Carole Teolis, CEO of TRX Systems. "The need for the TRX system is great and our technological vision and ability to innovate will deliver a product that will save lives."
The criteria for the competition, which received hundreds of initial entries, includes software or hardware solutions that help protect people, critical infrastructure, facilities and data/electronic systems against terrorist or other criminal attacks and natural disasters, or help governments, businesses and communities defend against, cope with or recover from such incidents.
TRX joined TAP in November, 2006. The company now employs 17 people—seven full-time, seven part-time, and three consultants. All but three are University of Maryland alumni.
"During the past two years, Jim Chung [director of the Maryland Technology Enterprise Institute VentureAccelerator Program] and Dean Chang have worked closely with TRX, advising us on how the company should grow, what direction it should take, and what it should do," says Blankenship. "They have put us in touch with investors and given us sound advice on how to run a startup."
In June, 2008, TRX Systems won the Maryland Incubator Company of the Year Awards in the Homeland Security company category. Two other TAP companies also took first place in their categories.
TRX has secured $2 million in contracts, Small Business Innovation Research (SBIR) grants and Broad Agency Announcement funding. The company provides research and development services to the U.S. Army, the National Geospatial-Intelligence Agency, the National Science Foundation, the Department of Homeland Security and the Technology Support Working Group.
"The invention itself is just the beginning of innovation. Productizing and commercializing the invention are themselves very significant challenges that need serious attention if it is to achieve success in the marketplace," says Tom Fuhrman, vice president of Booz Allen Hamilton, a sponsor for the event. "I applaud all the competitors in the Global Security Challenge for their creativity, their resolve and tenacity in developing their concepts into saleable products, and their business savvy in taking those products to market."
Published September 22, 2008