Two ECE Alumni Elevated to IEEE Fellow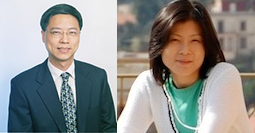 ECE alumni An-Yeu (Andy) Wu and Haitao (Heather) Zheng were elevated to Fellow of the Institute of Electrical and Electronics Engineers. The highest grade of membership, IEEE Fellow, is attained through nomination by peers and approval by the IEEE Board of Directors for distinction in the profession. Wu was recognized for contributions to DSP algorithms and VLSI designs for communications IC/SoC. Zheng received this honor for contributions to dynamic spectrum access and cognitive radio networks. Wu and Zheng were both advised by Christine Kim Eminent Professor K. J. Ray Liu at the University of Maryland.
IEEE is the world's largest professional association dedicated to advancing technological innovation and excellence for the benefit of humanity. IEEE and its members inspire a global community through its highly cited publications, conferences, technology standards, and professional and educational activities. There are more than 425,000 IEEE members in over 160 countries around the world. IEEE members are engineers, scientists, and allied professionals whose technical interests are rooted in electrical and computer sciences, engineering, and related disciplines.

Wu is Professor of Electrical Engineering at National Taiwan University. His research interests include low-power/high-performance VLSI architectures for DSP and communication applications, adaptive/multi-rate signal processing, reconfigurable broadband access systems and architectures, bio-medical signal processing, and System-on-Chip (SoC)/Network-on-Chip (NoC) platform for software/hardware co-design. He has published more than 190 refereed journal and conference papers in above research areas, together with 16 granted US patents. Professor Wu is now serving as an Associate Editor for the Journal of Signal Processing Systems. He has also received the "Outstanding EE Professor Award from the Chinese Institute of Electrical Engineering. Wu graduated both his M.S. and Ph.D. from the department; completing his studies in 1995.
Zheng is a professor at the University of California, Santa Barbara; she joined UCSB after spending six years in industry labs, both Bell Labs in New Jersey and Microsoft Research Asia. She co-directs the SAND Lab (Systems, Algorithms, Networking and Data) with Prof. Ben Y. Zhao. She was selected as one of the MIT Technology Review's TR 35 (2005) for her work on Cognitive Radios; and featured by MIT Technology Review as one of the 10 Emerging Technologies (2006). Zheng is also a fellow of the World Technology Network. Her research interests include wireless networking and systems, mobile and social computing. Currently, she is researching mmWave networking, wireless data centers, cognitive radios and dynamic spectrum access, and social networking. Zheng graduated from the Department of Electrical and Computer Engineering at the University of Maryland with her Ph.D. in 1999.
Published December 2, 2014