Alumnus Hemmady and Advisor Anlage Runners Up for Invention of the Year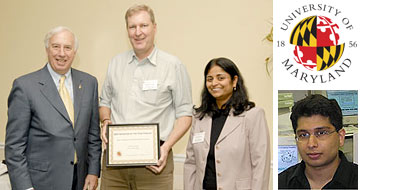 ECE Alumnus
Sameer Hemmady
(Ph.D., 2006) and his advisor Dr.
Steven M. Anlage
(PHY/ECE) recently secured the runner-up position in the Physical Sciences category at the 21st Annual University of Maryland Invention of the Year Awards Reception on Thursday, April 17, 2008, for their invention entitled "Wave fingerprinting of complicated enclosures." The reception is hosted annually by the Office of Technology Commercialization (OTC).
OTC received 118 invention disclosures with 245 different inventors in 2007. An independent panel of judges consisting of representatives from on and off campus voted for the Invention of the Year in each of three categories (Information, Life, and Physical Sciences). The winners and runners-up were announced at the reception and were presented with a plaque (see photo) by President C.D. Mote and OTC Director Dr. Gayatri Varma.
Dr. Hemmady and Dr. Anlage have invented a system that exploits the extreme sensitivity of small wavelength waves inside complicated enclosures to create a method that distinguishes between nominally identical objects through their unique "wave fingerprints."
Current methods that employ waves to distinguish objects are based on RADAR (electromagnetic), SONAR (acoustic) etc. These approaches generally look at waves reflected from the exterior of objects to determine their distance, velocity, and perhaps size and shape. By contrast, this new approach injects waves inside the object and measures the "wave characteristics" of the object.
"Wave Fingerprinting" can be done in both a contact and non-contact and/or remote manner using electromagnetic or acoustic energy beamed or directed at the object of interest. This allows identification of the object from some stand-off distance. The technique is very sensitive to the interior configuration of the object and can be used to measure small changes (tampering). For example it may be able to distinguish a computer that is turned off versus an identical one that is operating. It may also be able to determine what processes are taking place inside the computer (e.g. what programs are running, what keys are being typed, etc.). Other potential uses are in medical diagnostics, such as looking for changes in the acoustic wave properties of body organs due to tumors or cancer. A U.S. patent application is pending.
Published May 1, 2008