Bhattacharyya Publishes New Book on Signal Processing Systems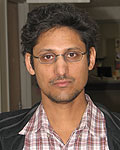 Professor
Shuvra Bhattacharyya
(
ECE
/
UMIACS
) has published a new book titled
Handbook of Signal Processing Systems
. The handbook was published by Springer, and co-editors of the book include
E. F. Deprettere, Rainer Leupers
, and
Jarmo Takala
.
The handbook provides a comprehensive overview and reference for signal processing systems. Handbook of Signal Processing Systems functions as a primary point of entry for students in engineering, computer sciences, and system engineering into the field. It is a valuable resource for undergraduate and graduate students, and is also essential for those involved in R&D. The handbook helps with design, architecture, and implementation of a large range of signal processing systems.
Prof. Bhattacharyya has been a co-author or co-editor of five books and is Director of the University of Maryland's DSPCAD Research Group and Director of Membership Services for the IEEE Signal Processing Society.
For more information about his new book, visit the Springer website.
Published October 21, 2010