Chellappa elected as AAAS Fellow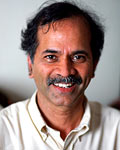 ECE Professor Rama Chellappa was recently elected as a fellow of the American Association for the Advancement of Science (AAAS). The determination was made by members of the AAAS Council and recognizes Chellappa's meritorious efforts to advance science or its applications.

The AAAS is an international non-profit organization dedicated to advancing science around the world by serving as an educator, leader, spokesperson and professional association. In addition to organizing membership activities, AAAS publishes the journal Science, as well as many scientific newsletters, books and reports, and spearheads programs that raise the bar of understanding for science worldwide.

Chellappa is a Minta Martin Professor of Engineering interim chair of the Department of Electrical and Computer Engineering. His current research interests are face and gait analysis, secure biometrics, 3D modeling from video, image/video exploitation from stationary and moving platforms, compressive sensing, hyper spectral processing, and commercial applications of image processing and understanding. He was honored for distinguished contributions to the field of image processing and computer vision, particularly model-based approaches to image and video-based modeling and recognition.

The AAAS will present the certificate and rosette accompanying the distinguished elections on February 18, 2012 in Vancouver, British Columbia. More information can be found at the AAAS website.
Published November 30, 2011