Chellappa Speaks on Patterns in Video, Earns IBM Faculty Award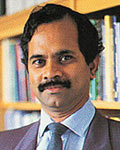 Professor
Rama Chellappa
(
ECE
/
CS
/
UMIACS
) spoke at the 14th International Conference on Image Analysis and Processing (
ICIAP 2007
) on September 11, 2007 in Modena, Italy. The title of Prof. Chellappa's talk was "Looking for Patterns in Video," which focused on the unique challenges of pattern recognition in video, and the technological applications in homeland security, healthcare, video indexing and anomaly detection. This talk was in the conference area of Human-Centered Applications.
Dr. Chellappa was also recently selected to receive a 2007 IBM Faculty Award. The award, worth $15,000, is highly competitive and is offered in recognition of the quality of faculty programs and their importance to industry.
Chellappa, who previously received a 2006 IBM Faculty Award as well as an IBM Faculty Development Award, is currently conducting research in face recognition technology, and will collaborate with IBM researchers in the area of multi-modal biometrics. IBM researchers, who have done much in the area of fingerprint-based user authentication, will work with Chellappa on developing automatic human authentication systems, using both face and fingerprint recognition. This research is highly relevant to the US-VISIT program, which collects both face images and fingerprints for future passports.
IBM Faculty Awards are offered annually, and are renewable by IBM. For more information about the IBM Faculty Awards program, visit the IBM website.
Prof. Chellappa was also featured in a BBC News story on surveillance for his human gait and face recognition technology.
Published September 11, 2007