Dr. Min Wu Invented a Novel Technique to Measure Electric Network Frequency Signals (ENF) from Video Recordings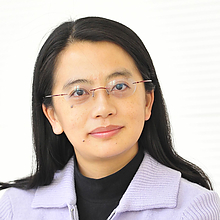 Generations of women have contributed to engineering, and Clark School women are proud to be part of that tradition. In honor of women's history month, the Clark School is celebrating one female engineering faculty member each day. Read about today's featured faculty member, Dr. Min Wu.
Professor Min Wu and her Ph.D. students Hui Su and Adi Hajj-Ahmad won the 2015 University of Maryland Invention of the Year Award in Information Science for a method they have identified to extract Electrical Network Frequency (ENF) signals from video recordings of complex and realistic scenarios to be used in a variety of applications including security and forensics, digital humanities and immersive multimedia. The invention was one of nine nominated for the Invention of the Year Award and was presented during the UMD Celebration of Innovation and Partnership, sponsored by the Office of Technology Commercialization, the Corporate Connect Council, and the Academy of Innovation of Entrepreneurship. Read more about Dr. Wu's invention here.
Dr. Min Wu received a B.E. Degree in Electrical Engineering and a B.A. Degree in Economics from Tsinghua University, Beijing, China, in 1996. She received an M.S. Degree and Ph.D. degree in Electrical Engineering from Princeton University in 1998 and 2001, respectively. She was with NEC Research Institute and Signafy, Inc. Princeton, NJ in 1998, and with the Media Security Group, Panasonic Information & Networking Laboratories, Princeton, NJ, in 1999. In 2001, she joined the Department of Electrical and Computer Engineering and the Institute of Advanced Computer Studies (UMIACS) at University of Maryland, College Park. She is also affiliated with the Institute of Systems Research (ISR).
Her current research endeavors include information security and forensics, and multimedia signal processing and communications. She received an NSF CAREER award on information security and protection in 2002, and a George Corcoran Education Award from University of Maryland in 2003, and a Young Investigator award on multimedia security and forensics from U.S. Office of Naval Research in 2005. In 2004, she was selected by the MIT Technology Review Magazine as one of the 100 top young innovators whose contribution to emerging technologies will profoundly influence the world. She is a co-recipient of two Best Paper Awards from the IEEE and EURASIP Signal Processing Societies for two journal publications she co-authored on multimedia forensics.
Published March 31, 2017