Professor Wu Named Distinguished Scholar Teacher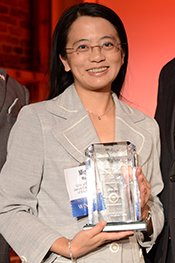 Congratulations to Professor Min Wu (ECE/ISR), who has been selected as a 2013-2014 Distinguished Scholar-Teacher by the University of Maryland. She joins Professor Carol Espy-Wilson (ECE/ISR), 2012 – 2013, Professor Patrick O'Shea(ECE/IREAP/Physics/NanoCenter/UMERC), 2010–2011; Professor K.J. Ray Liu (ECE), 2006-2007; Professor Howard Milchberg (ECE/Physics/IPST), 2005–2006; Professor Michael Fu (Robert H. Smith School of Business/ISR/ECE), 2004-2005; Professor Rama Chellappa (ECE/CS/UMIACS/CFAR), 2003-2004; Professor Steven Marcus(ECE/ISR), 2000-2001; Professor Isaak Mayergoyz (ECE/UMIACS) 1995-1996; Professor William Destler, 1992-1993; and Professor Christopher Davis (ECE/Maryland Optics Group), 1989-1990; as ECE winners of the award.
Dr. Min Wu received a B.E. degree in electrical engineering and a B.A. degree in economics from Tsinghua University, Beijing, China, in 1996 (both with the highest honors), and an M.S. degree and Ph.D. degree in electrical engineering from Princeton University in 1998 and 2001, respectively. Since Fall 2001, she has been a faculty member of the Electrical and Computer Engineering Department and the Institute of Advanced Computer Studies (UMIACS) at University of Maryland, College Park. She is also affiliated with the Institute of Systems Research (ISR).
Dr. Wu's research interests include information security and forensics, and multimedia signal processing and communications. Dr. Wu received an NSF CAREER award on information security and protection in 2002, and a George Corcoran Education Award from University of Maryland in 2003, a 2004 Best Paper Award from the EURASIP Journal of Applied Signal Processing, and a Young Investigator award on multimedia security and forensics from U.S. Office of Naval Research in 2005. In 2004, she was selected by the MIT Technology Review Magazine as one of the 100 top young innovators whose contribution to emerging technologies will profoundly influence the world.
In 2012, Wu won awards for a novel natural timestamp that provides a method for forensic analysis of digital audio, image, video and sensor recordings. Digital tools can be used to alter or modify stored information, i.e. using digital editing software to cut a clip from an existing audio recording and insert it into another. As forensic tools are developed to authenticate data using the natural timestamp, they will significantly complement existing digital forensic technology.
These awards included the 2012 Maryland Innovator of the Year, sponsored by the Maryland Daily Record; and the University of Maryland's Invention of the Year competition in the Information Science category.
The Distinguished Scholar-Teacher program recognizes faculty members who have demonstrated outstanding scholarly achievement along with equally outstanding accomplishments as teachers. Cohen is one of only four Maryland professors to receive the honor this year. Nominees for the award are selected by their peers; the winners are chosen by a panel of former Distinguished Scholar-Teachers. The Scholar-Teachers bring a passion for learning to their colleagues and students, and serve as models of what a professor at a fine research university should be. Winners receive a cash award to support instructional and scholarly activities, and make a public presentation in the fall semester on a topic of scholarly interest.
For more information about the Distinguished Scholar-Teacher Award program, as well as a list of past winners, please visit:http://www.faculty.umd.edu/FacAwards/dstlist.html.
Published February 7, 2013