ECE Alumnus Spivey Promoted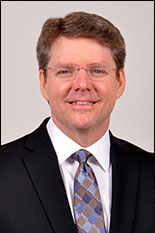 Gary Spivey, professor of Electrical and Computer Engineering at George Fox University and alumnus of the University of Maryland was recently promoted to full professor with tenure.
A former student of Professors Kazuo Nakajima (ECE) and Shuvra Bhattacharyya (ECE/UMIACS), Dr. Spivey received his M.S. and Ph.D. degrees from the University of Maryland in 1997 and 2002 respectively.
He joined the engineering faculty at George Fox University in 2003 and helped the engineering program achieve ABET accreditation. During this time Dr. Spivey has managed or co-managed nearly all of the senior capstone projects and was instrumental in the creation of the new Servant Engineering program. His research has been supported by grants from the National Science Foundation and is focused on the use of microprocessors and embedded modules for use in rapid-prototyping of electromechanical systems.
Before joining George Fox University, Spivey worked as an electronic engineer at the National Security Agency, a site-support engineer for the United States Navy Security Group and a senior member of the technical staff at Rincon Research Corporation.
ECE congratulates Spivey on his promotion and wishes him the best of luck in his new position.
Published August 5, 2013