ECE-Mentored High School Student Creates Innovative Prosthetic Device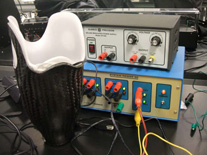 A local area high school student is spending time in an Electrical and Computer Engineering lab on campus developing a new device to help soldier amputees returning from Iraq and Afghanistan.
North Point High School student Katherine Bomkamp, 17, has created a therapeutic prosthetic device to relieve pain and discomfort for amputees with the assistance of ECE Professor Gilmer Blankenship, ECE Staff Engineer Jay Renner, and students in the BAE Systems Controls Instructional Laboratory.
After seeing patients without arms and legs at the Walter Reed Army Medical Center, and learning that they often experience debilitating "phantom pain" from their missing limbs, Katherine decided she wanted to make a difference. She designed a therapeutic prosthesis that helps alleviate phantom limb pains for below the knee amputees through the application of heat, allowing amputees to regain normal daily functions. Bomkamp considers the device a "pain management tool," as opposed to the traditional prosthetic devices that are seen as cosmetic and mobility tools.
Her device, called the "Pain Free Socket," uses a battery powered heating element inside a specially made carbon fiber, fitted socket. Bomkamp sought help from the ECE Department in designing and implementing the control system electronics. This semester she began working in the ECE BAE Control Systems Lab with Professor Blankenship, Jay Renner, and graduate students John Karvounis and Jared Napora.
The faculty, staff, and students of the Controls Lab have helped Katherine develop the electronic control system for the Pain Free Socket. With their advice and access to lab equipment, Bomkamp is designing a "bio thermal feedback" capability for the patient. Bomkamp is implementing the electronics using a low cost microcontroller and simple sensors. The user can activate the heating element using a short-range wireless transmitter. Batteries attached to the prosthesis provide the power for heating.
Bomkamp demonstrated her handiwork at the 50th Annual Charles County Science Fair, earning a grand prize, and advancing to the Intel Science Fair in Nevada in May. She has already filed for a business patent for her idea, and currently holds a provisional patent. Bomkamp has kept the University of Maryland as a top choice for future college options, hoping to study in the fields of Bioengineering and Political Science.
Katherine exhibited her project at the ECE table at last Saturday's Maryland Day event on the College Park campus.
Published April 29, 2009