Electrical and Computer Engineering Wins 2018 Alumni Cup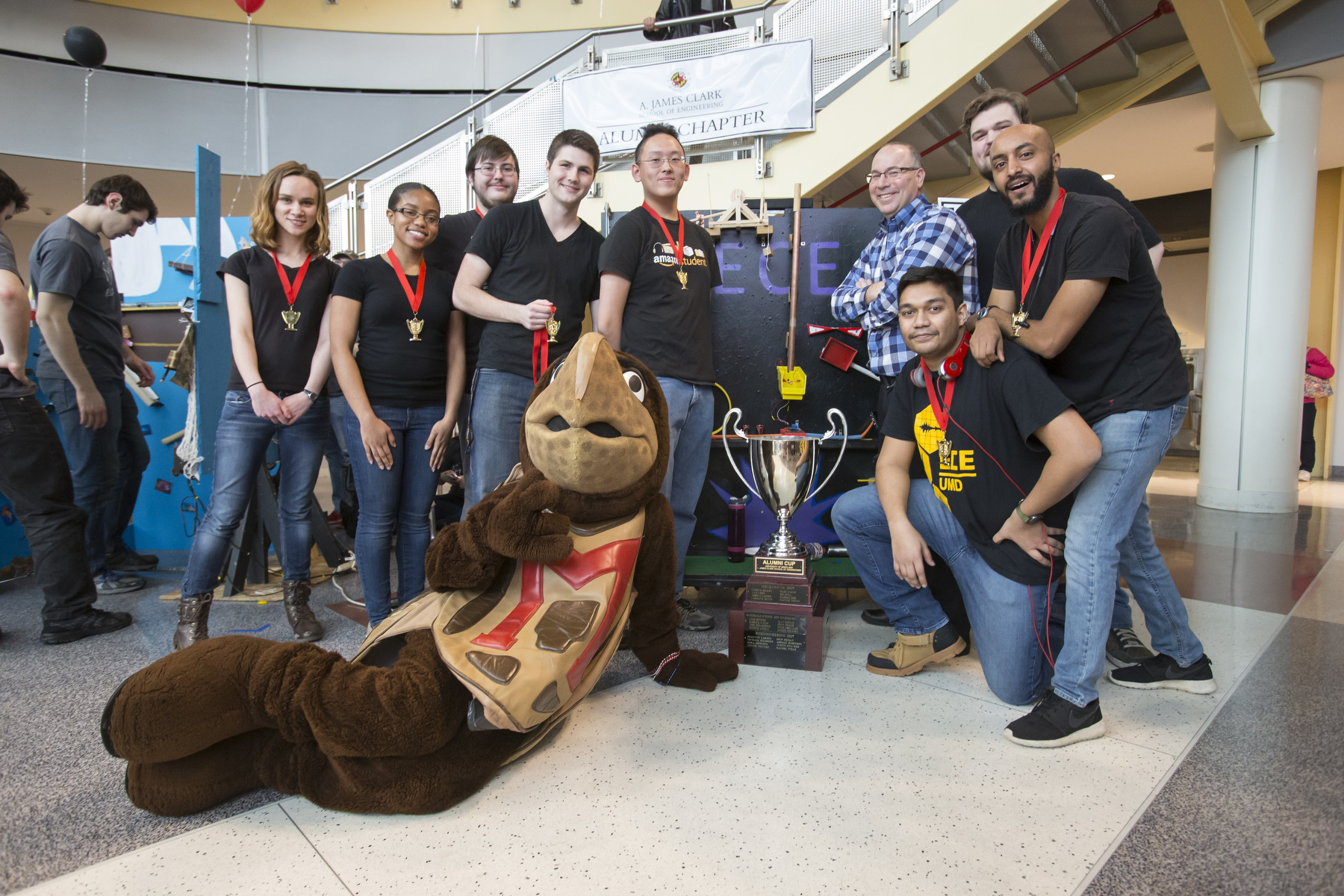 On Friday, February 23, the Electrical and Computer Engineering Department clinched their first-time win with a childhood toy-themed machine for the 2018 Clark School Alumni Cup. Students, faculty, staff, and alumni gathered to support their teams in the Kim Engineering Building Rotunda.
The Fire Protection Engineering Department's medieval-themed machine placed 2nd and the Mechanical Engineering Department's Disney EPCOT themed machine took 3rd.
The Alumni Cup is an annual engineering design competition that was started in 2012 by the Engineering Alumni Network. The event takes place each year during National Engineers Week, which raises awareness and support for the roles engineers play in creating, designing, and building the world around us.
A week prior to the competition, teams of students from each of the eight engineering disciplines began designing a Rube-Goldberg inspired machine, and this year's task was to accurately putt a golf ball one meter into a hole with no assistance. On the day of the event, each team demonstrated their machines which were judged by members of the Clark School administration and the Alumni Association on the complexity of their energy transfers, design package, and display of departmental spirit.
ECE's machine successfully performed the task three times and their theme of childhood toys such as mini golf, Hot Wheels, and pool was well received. Further features of ECE's machine included three Arduino microcontrollers, continuity sensors, servos, relays and various motors. Also, rather than purchasing their power supply, the team built theirs from scratch. Read more about the event here.
The members of the winning team include:

Hasme Rafsan Jani – Team Captain
William Kay
Dmitry Akmal
Hannah Lily Watsky
Israel Kinfu
Nicole Armstrong
Daniel Xing
Scott Thomas
The Event Chair: Jeff Karceski '88
Sponsors:
Amethyst Technologies
Bechtel
Karceski Law
AECOM
Syska Hennessy
Accenture
Judges:
Prem Viswanathanan
Greg Moore
Mike Burgoon
Nick Teti
Kimberly Brown
Lisa O'Keefe
Volunteers:
Liz Goldwasser
Kevin Schoonover
Bob Peskin
Nefretiti Nassar
Russ Werneth
Anthony DeCicco
Ralph Wheeler
Brian Blicher
View photos from the 2018 Alumni Cup here
Published March 8, 2018