Kotha Selected as ECEGSA President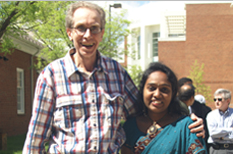 Aparna Kotha
, a 3rd year Ph.D. student, has been named the new President of the Electrical and Computer Engineering Graduate Student Association (
ECEGSA
) for the 2010-2011 Academic year.
Aparna is currently advised by Prof. Rajeev Barua in the field of Computer Architecture and High Performance Computing. She received her undergraduate degree at the Indian Institute of Technology, Madras in Electrical Engineering, working with Prof. Vineeta Vasudevan and Dr. Nitin Chandrachoodan for her B.Tech project on the design and implementation of a fully asynchronous MIPS processor.
Aparna worked with Ittiam Systems, Bangalore between July 2006 and July 2007 and was associated with the Multi Format High Definition Video Decoder project. She was also involved in the design and implementation of the H.264 entropy decoder block.
Aparna was a Teaching Assistant for the ECE Department during Spring and Fall 2008. She taught ENEE 307 (Electronic Circuits Design Laboratory) and ENEE459R (Topics in Computer Engineering: Compilers). She was also given the opportunity to conduct a teaching workshop, titled "Grading and Evaluation: Can I get partial credit?". She has been awarded the Distinguished Teaching Assistant Award by the department for 2008-2009 and looks forward to more teaching experience in the future.
She served on the ECEGSA board and the Women in ECE (WECE) board. She has also been a department representative for ECE in the Graduate Student Government.
If ECE graduate students wish to volunteer their time by joining the ECEGSA board in the coming year, they are encouraged to contact Aparna (akotha@umd.edu). The success of the ECEGSA depends on student participation.
Published June 2, 2010