Quinn Receives Award for Work with Engineers Without Borders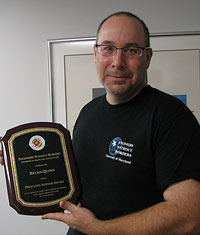 ECE Director of Technical Operations
Bryan Quinn
has received the Engineers Without Borders (EWB) Dedicated Advisor Award. He received the award for his enthusiasm, insights, and exceptional contributions to the chapter's efforts, both locally and internationally.
In Summer 2009, Quinn joined the EWB students on a trip to Peru to begin work on the implementation of a potable water system in Compone, a community of 1500 in the southern Andean Mountains. The team returned in January 2010 to conduct further work on a tablet chlorination system, and plans to finalize the project in Summer 2010.
Engineers Without Borders USA is a national nonprofit organization dedicated to sustainable development through engineering assistance and training internationally responsible engineering students. To date the University of Maryland's EWB Chapter has sent 104 students, 7 faculty, and 19 professionals on 22 trips over 5 years, completing 9 projects in Brazil, Burkina Faso, Ecuador, and Thailand.
For more information, visit the EWB website at http://www.eng.umd.edu/ewb/.
Published May 25, 2010