Masters in Telecommunications 5G Protocol Stack Development Team participates in Wireless Connect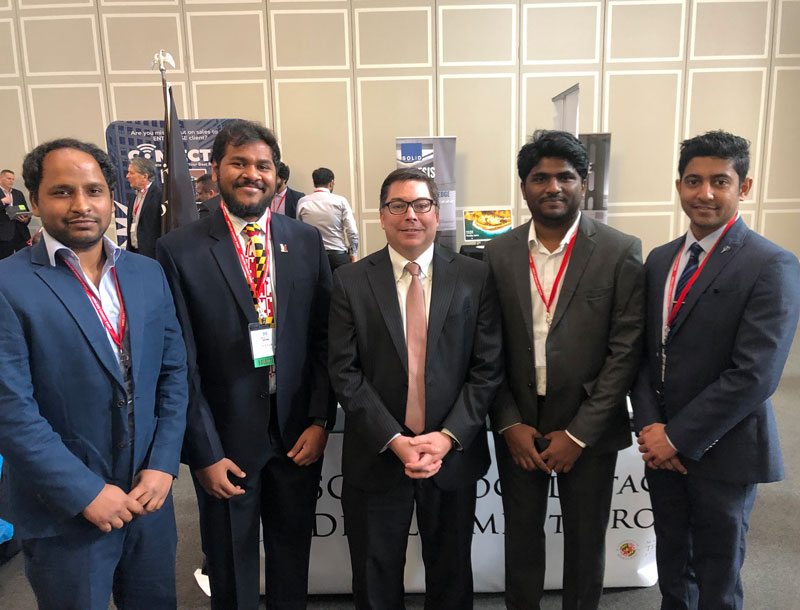 The 5G Protocol Stack Development Group of the University of Maryland showcased an implementation of a private LTE network at the 2019 Wireless Connect Event held April 4 at the Riggs Alumni Center in College Park, Maryland.
Led by Telecommunications graduate students Sharan Erukulla, Project Lead and President of the Telecommunications Students and Alumni Network, Swapnil Sude, Himanshu Sharma, and Chinmay Sane, the students demonstrated a video call between two commercial phones, which were connected to their private LTE network. The students were able to conduct a special demonstration for FCC Commissioner Hon. Micheal O'Reilly.
Wireless Connect 2019 connects various stakeholders of wireless ecosystems, including Operators, Service Providers, Infrastructure Providers, OEMs, Policy Makers, and City Planners.
Stimulating panel discussions and technical workshops designed around the next generation of wireless technology provided a meaningful venue for participants of the event. In addition, a reception and exhibition hall encouraged networking opportunities for potential ventures and partnerships. In addition, Rikin Thakker, UMD Telecommunications Faculty member and ECE Alumnus, moderated a panel on "Connecting the Dots: CBRS, Edge Computing, Private LTE, In-building Wireless."
Maryland Telecommunications students were specifically mentioned and applauded in several of the panel discussions. Many participants eagerly engaged students about their telecom interests and career plans.
Keynote speeches at Wireless Connect were delivered by FCC Commissioner, Hon. Michael O'Reilly, Hon. Jonathan Adelstein, President and CEO, The Wireless Infrastructure Association (WIA), and Thomas Kane, President and Managing Member at NB+C.
Of special note, Maryland Telecom alumna Deepika Vaidya (2018) introduced Jonathan Adelstein for his keynote address. Mr. Adelstein expressed his appreciation for the student participation and, on behalf of the WIA, offered two scholarships for Maryland Telecom students to attend the Connect (X) connectivity expo to be held in Orlando, Florida this May.
Published April 10, 2019