Mosteller wins Dean's Master's Student Research Award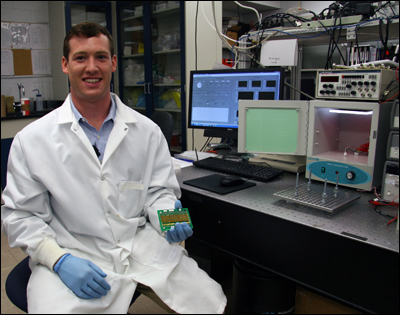 Congratulations to ISR
M.S. Systems Engineering
student
Matthew Mosteller,
who won the Clark School of Engineering's 2012 Dean's Master's Student Research Award Competition for "Bacterial Biofilm Monitoring in an Integrated Microfluidic Platform for Antibiotic Development." He is advised by ISR Director
Reza Ghodssi
(ECE/ISR) and Associate Professor
Mark Austin
(CEE/ISR).
Mosteller is a Robert W. Deutsch Graduate Student Fellow whose work is supported by the National Science Foundation and the Robert W. Deutsch Foundation. He also is part of the Maryland BioChip Collaborative group.
Dean Darryll Pines created the Dean's Master's Student Research Award Competition to give top Clark School master's student researchers special recognition that will be valuable in launching their careers, and to show all students the importance of high quality engineering research. Students submitted their work through competitions at the unit level. Members of departmental advisory boards served as judges for this competition.
About Matt Mosteller's research
Biofilms are aggregations of bacteria that live in interacting communities in the human body and other environments. Biofilms produce harmful toxins, linked to as many as 65 percent of all microbial infections within the human body. These infections are highly antibiotic-resistant, often requiring up to 5,000 times the concentration of antibiotics for effective treatment compared to non-communal bacteria.
Such high doses of antibiotics increase the risk of harmful side effects and promotes the proliferation of multidrug-resistant bacteria. This leads many doctors to choose invasive surgery over antibiotics when bacterial biofilms are present, and points to a need for developing better early detection and treatment methods. There is a strong need for new in vitro bacterial biofilm study platforms for determining the effectiveness of new infection-fighting pharmaceuticals.
Mosteller's work used systems engineering principles to develop a cost effective and efficient method for drug screening. He developed a microfluidic platform for growing, monitoring, and experimentally treating bacterial biofilms that emulates "real world" in vivo environments. This bench-top MEMS microfluidics platform enhances assay precision and decreases throughput time in biomedical testing. In addition, Mosteller's on-chip integration of a novel biofilm treatment method capable of increasing the biocidal effects of antibiotics while maintaining biocompatibility opens up opportunities for future biofilm treatments.
Mosteller's platform is called Micro-BOAT (microfluidic biofilm observation, analysis, and treatment platform). Micro-BOAT is an integrated microsystem that continuously monitors biofilms and simultaneously treats them with an enhanced bioelectric effect. Micro-BOAT's microfluidic chambers for bacterial growth are formed using soft photolithography techniques in biocompatible polymer polydimethylsiloxane (PDMS) and serve as an experimental flow cell for various treatments. Six parallel experiments can run simultaneously on a single chip, making high-throughput drug screening possible.
Micro-BOAT monitors bacterial growth using the optical density properties of biofilms as their density increases—a viable metric of biofilm development that correlates to overall biofilm mass. Linear array charge-coupled devices (CCD) are integrated with the microfluidic chambers to detect the optical density changes and provide a new, non-invasive way to monitor biofilms. The system demonstrated high repeatability and detection limits suitable for rapid drug-screening applications.
Gold microfabricated electrodes integrated within the platform provide a new bioelectric treatment: superpositioned AC and DC electric field are supplied to bacterial films in the presence of antibiotics at concentrations well within biocompatible limits. This new treatment method increased efficacy by 56 percent compared to traditional antibiotics alone. The technique also could prove useful for patients at high-risk of bacterial infections, such as those receiving medical implants.
Mosteller will present aspects of his research this summer at two important conferences.
"Microfluidic Biofilm Observation, Analysis, and Treatment (Micro-BOAT) Platform" at the 2012 Solid State Sensor, Actuator, and Microsystem Workshop, Hilton Head, S.C., June 2012
"Platforms for Engineering Experimental Biomedical Systems" at the 22nd Annual INCOSE International Symposium, Rome, Italy, July 2012
Published May 15, 2012