Robotics, Service & STEM Education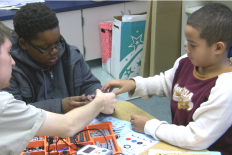 The
Science Technology & Society program
(STS) of College Park Scholars,
sponsored by the A. James Clark School of Engineering
, has brought robotics to many schools in the area. Robotics enables college students to teach younger students and to engage their handiness with tools and spatial thinking. This article describes recent achievements of the 150 students in the program.
In June 2012, the College Park Scholars central office awarded $5,000 to fund the STS program's proposal to buy LEGO Mindstorms robotics kits, software licenses, and professional education workshop. On a Sunday early in September, 14 freshmen and sophomores completed the workshop, learning how to use materials effectively in the classroom and to teach younger students without "doing the work for them." The freshmen followed up this experience by volunteering for Maryland Robotics Day (Sept. 21) and the sophomores followed up by volunteering on a weekly basis at Greenbelt Elementary School and at Eleanor Roosevelt High School. Teachers at both Prince George's County schools support robotics as an aid to attracting and retaining students to STEM. It is likely that in the Spring 2013 semester, the service can be expanded to a third school. The college volunteers complete classroom activities and discuss articles about the value of service learning to increasing STEM in PG County.
In October the STS Program supported the establishment of a newly recognized student organization, MASE (Mentors Advancing STEM Education), which was begun by Nitay Ravin of the Science Discovery and the Universe program of College Park Scholars. The 25 members of MASE support FIRST FRC robotics Team Illusion (FIRST FRC Team #4464), which was initiated by Dr. Vijay Kowthaa of Naval Research Lab. At least once a week, college and high school students have met on campus, typically in the CCC Building of the Scholars quadrangle, to learn skills.
On January 12, 2013, the STS Program will welcome FIRST FRC teams from the greater Washington DC area - including Team Illusion - to a "kitbot" build event. This event occurred on campus for the first time in January 2012, when it enabled 14 teams to assemble their "kitbot" robots at the beginning of the build season (photos from 2012). The MASE students will be supporting Team #4464 over winter term and right through late February, when work must stop on the robots prior to the competition season. Team #4464 will compete in the Washington DC Regional in March 2013 at the Washington Convention Center and at the Chesapeake Regional in April 2013 in Baltimore.
Scholars STS students will volunteer for other FIRST FRC events, such as the pre-competition season face-offs in February 2013 (photos from 2012) and at the Baltimore and Washington regional competitions. In association with volunteering for the Science Olympiad, Physics Olympics and National Science Bowl, Scholars STS students do their bit to attract and retain younger students to STEM.
Published December 12, 2012