Sprangle Awarded 2013 Maxwell Prize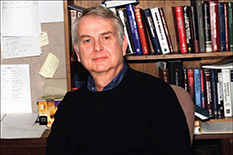 The American Physical Society (APS) awarded Dr. Phillip Sprangle (ECE/IREAP/Physics) with the 2013 James Clerk Maxwell Prize in Plasma Physics. This award is sponsored by General Atomics and established to recognize outstanding contributions to the field of plasma physics.
Dr. Sprangle will receive the award at the annual meeting of the Division of Plasma Physics which will be held in Denver, Colorado from November 11-15, 2013. Accompanying the award is the following citation:
"For pioneering contributions to the physics of high intensity laser interactions with plasmas, and to the development of plasma accelerators, free-electron lasers, gyrotrons and high current electron accelerators."
Dr. Sprangle's research spans decades and multiple areas including the atmospheric propagation of high-energy lasers, ultra-short pulse laser-matter interaction and propagation, nonlinear optics, free electron lasers, nonlinear plasma physics and laser driven accelerators.
Dr. Sprangle is a Fellow of the American Physical Society, the Optical Society of America, the Institute of Electrical and Electronics Engineers, and the Directed Energy Professional Society. He has won numerous national and international awards for his research, including the IEEE Plasma Science Award (2008), International Free Electron Laser Prize (1991), E. O. Hulburt Science and Engineering Award (1986), the Sigma Xi Pure Science Award (1994), two Technology Transfer Awards, the Top Navy Scientist and Engineer of the Year Award (2008), the 2012 Office of Naval Research Dr. Fred E. Saalfeld Award for Outstanding Lifetime Achievement in Science.
Sprangle is a Professor in the Electrical and Computer Engineering department and The Institute for Research in Electronics and Applied Physics in the A. James Clark School of Engineering, and the Physics Department at the University of Maryland. He also retains a joint appointment at the Naval Research Laboratory, where he serves as a Senior Scientist for Directed Energy Physics.
Professor Howard Milchberg, a colleague of Dr. Sprangle's, said "This is an incredibly prestigious distinction recognizing Phil's amazing creativity and productivity, and it further highlights the strengths of the plasma physics research efforts at Maryland and the Naval Research Laboratory."
The Department of Electrical and Computer Engineering congratulates Professor Sprangle on this notable award.
Published July 3, 2013