TRX Systems to Exhibit at NSF's The Arc of Science in Washington, DC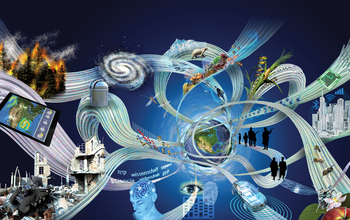 On behalf of the National Science Foundation (NSF) and the Coalition for National Science Funding (CNSF), TRX Systems will be attending The Arc of Science: Research to Results. The event will feature NSF-funded researchers who have made real-world impacts with their discoveries, demonstrating their science with hands-on activities. Attending alongside the researchers are their community partners who have benefitted from and use the research results on a daily basis. (TRX Systems' community partner is Motorola Solutions). NSF Director Dr. France A. Cordova and Reps. Lamar Smith and Eddie Bernice Johnson of Texas will deliver remarks, and invitees will have the opportunity to speak directly with members of Congress and their staffs.
TRX Systems, led by UMD ECE alumnae Carol Politi (M.B.A, '97, B.S. EE, '86), and Dr. Carole Teolis (Ph.D. EE, '94), is a spin-off from Techno-Sciences, founded by UMD's Dr. Gilmer Blankenship (ECE), who is on the TRX Board of Directors.
TRX Systems delivers precise, infrastructure free, tracking systems that safeguard people indoors and in locations without reliable GPS. The TRX Systems unique sensor fusion and mapping technology greatly improves situational awareness and command effectiveness by providing precise, real-time 3D personnel location in areas that are GPS-denied. For more information on TRX indoor location technology, visit TRXSystems.com.
The event will be held on February 15th, in Washington, DC.
Published February 13, 2017