Zhao Wins Best Poster Award at ISDRS 2011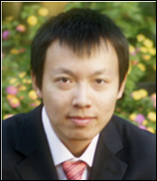 ECE Graduate Research Assistant Wei Zhao received the best poster award at the 2011 International Semiconductor Device Research Symposium (ISDRS), held in College Park from December 7-9, 2011.

Zhao, who co-authored the paper with Kwagsik Choi, Zeynep Dilli, Scott Bauman, Tom Salter and Professor Martin Peckerar (ECE), was selected from 89 competitors for the award. Zhao's paper was titled, "Design of a Radio Frequency Energy Harvesting System for an Unmanned Airplane."

This work was funded in part by the IREAP AppEl program and benefited from input by Professor Neil Goldsman's (ECE) design team for the the boost converter and from the CoolCad, LLC staff.

Wei Zhao is a Ph.D. student studying in the Electrical and Computer Engineering Department at the University of Maryland and has been a Teaching Assistant as well as a Research Assistant in the ECE Department. In his time as a Research Assistant he has designed and tested radiation hard circuits with Peregrine SOS process using a cryogenic environment as well as developed Maryland Mote Power Distribution System (PDS), integrating a flexible nano-particle battery using RuOx with extremely high capacity, an ultra low power microcontroller and a co-developed switched-capacitor DC-DC converter using IBM 8RF (130nm CMOS technology) PDK
. Zhao also designed a down-conversion frequency mixer for RF communication with a filter-embedded amplifier.

The ISDRS is a biennial conference focusing on exploratory research in electronic and photonic materials and devices. More information can be found at the ISDRS 2011 website.
Published December 21, 2011