Alum Timir Datta-Chaudhuri develops VNS biosensor for mice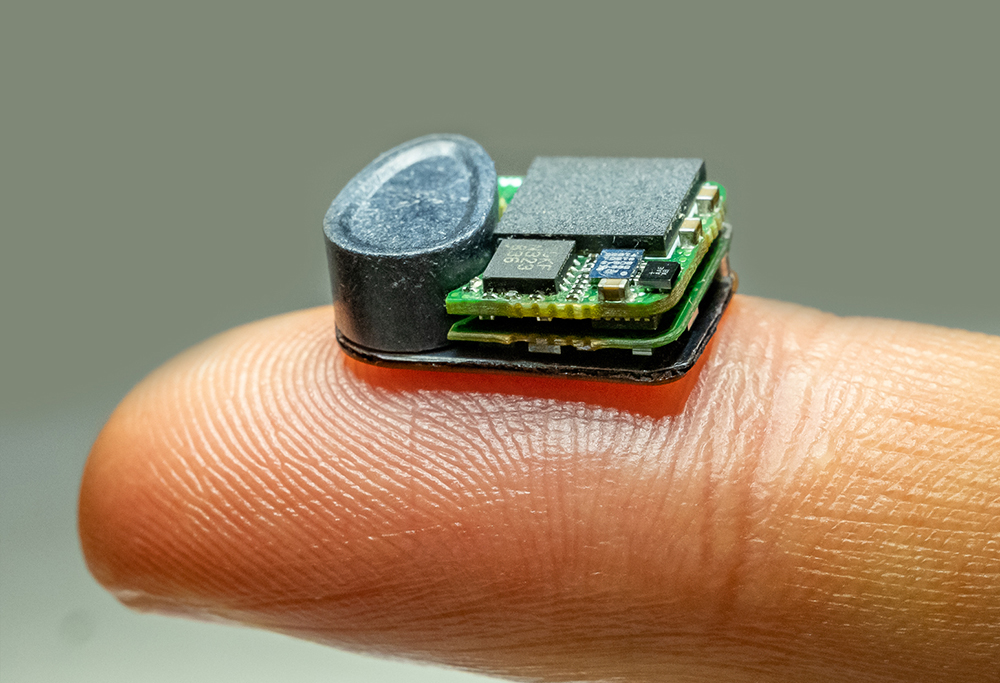 Alum Timir Datta-Chaudhuri (ECE Ph.D. 2015) and 13 of his colleagues in the Institute of Bioelectronic Medicine at The Feinstein Institutes for Medical Research have developed a fully-implantable wireless bidirectional vagus nerve stimulation (VNS) and sensing device for mice. The invention has the potential to transform how bioelectronic medicine research is conducted in labs worldwide.
Datta-Chaudhuri, an assistant professor at the Feinstein Institutes, is the first author of a new paper about the device and its capabilities, "A fully implantable wireless bidirectional neuromodulation system for mice," published in the journal Biosensors and Bioelectronics. At Maryland, he was co-advised by Professor Pamela Abshire (ECE/ISR) and Professor Elisabeth Smela (ME/ISR).
Bioelectronic medicine is a new approach to treating and diagnosing disease and injury. It is a convergence of neuroimmunology and technology that uses electricity to stimulate the nervous system, particularly the vagus nerve, the longest nerve of our autonomic nervous system.
The vagus nerve—actually two nerves that run from the brain to the colon—interfaces with the heart, lungs, and digestive tract. It has both sensory and motor fibers, and transmits information about the state of the body's organs to the central nervous system. The neurotransmitters that travel through this nerve are responsible for tasks such as heart rate, sweating, speech, vomiting, and satiation in the stomach.
Scientists are using this electrical stimulation to study how the brain and organs communicate to control things like inflammation, heart rate and oxygen levels. Early research performed in mice may lead to the discovery of new therapies for heart failure, as well as for chronic auto-immune diseases such as Crohn's disease, lupus, rheumatoid arthritis, and inflammatory bowel syndrome.
"Neuromodulation and bioelectronic medicine hold the potential to treat a variety of diseases without the use of traditional pharmaceuticals and their potential side effects," Datta-Chaudhuri said. "However, scaling devices to the size needed for studies in mice has been very challenging."
Indeed, the surgical and technological challenges have limited research progress, resulting in many groundbreaking discoveries of the past few decades failing to reach clinical application.
"This new device will finally enable the fundamental preclinical studies needed to inform future clinical trials that could lead to potentially revolutionary bioelectronic therapies for patients in need," Datta-Chaudhuri said.
To ensure that other researchers can build and use this system for themselves, Datta-Chaudhuri's team designed and built the new device using only off-the-shelf, commercially available components and 3D-printed parts. It is compatible with different types of electrodes and sensors and can be used for applications other than VNS, such as deep brain stimulation or pain relief. Importantly, the device is also wirelessly rechargeable while the mouse remains completely free to move and interact with its environment, which will allow researchers to design long-term studies to look at disease treatment progression.
"Basic science in mice is foundational to developing new devices and effective treatments for patients," said Kevin J. Tracey, MD, president and CEO of the Feinstein Institutes. "By offering new methods for other labs to use in their neuromodulation work, Datta-Chaudhuri and his team are leading the way to new discoveries in neuroimmunology and bioelectronic medicine research."
—ISR thanks Matthew Libassi of Northwell Health for the original story.
Published January 27, 2022