Alumnus Amr Adly makes Great Strides as Vice President for Graduate Studies and Research at Cairo University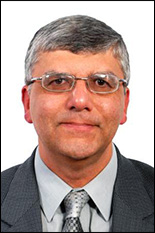 ECE alumnus Dr. Amr A. Adly (Ph.D. '92), has been serving as Vice President for Graduate Studies and Research at Cairo University (CU) since January 2016. During his time as Vice President, Adly has propelled CU to the top 500 in both Shanghai Academic Ranking of World Universities (ARWU) at #420 and the Quacquarelli Symonds (QS) World University Rankings at #481 of 2016.
CU, Egypt's flagship university, is located in Giza, Egypt, and hosts 26 academic institutes in different scientific disciplines, with twelve thousand faculty members serving approximately 250,000 students. CU's research portfolio is diverse and reflects the national priorities of Egypt as a country. Adly notes that from an applied perspective, "Cairo University has top notch researchers funded both nationally and internationally working on areas of key concern to Egypt. Fields such as basic sciences, medical sciences, energy, engineering, pharmaceuticals and water treatment are outstanding at Cairo."
In addition, the Egyptian Academy of Scientific Research and Technology announced Adly as the winner of the prestigious Egyptian State 2016 Merit Award in Engineering Sciences. Only one in every branch (i.e., Medical, Engineering, etc.) is awarded each year based on lifetime achievements as well as official administrative positions, publications, previous awards, and more.
While at Maryland, Adly was advised by Alford L. Ward Professor and Distinguished Scholar-Teacher Isaak Mayergoyz (ECE/UMIACS). Before earning his Ph.D. from UMD in 1992, Adly earned his B.Sc. and M.Sc. in Electrical Engineering from CU in 1984 and 1987, respectively. His research interests include electromagnetics, electrical machines, analog and digital circuit design, and superconductivity. He was elevated to IEEE Fellow status in 2011.
Of his accomplishments, Adly says, "I owe many of my achievements to Prof. Mayergoyz for his supervision, guidance, and support. He definitely has a share in this prize as well as all other professional achievements."
Published July 14, 2017