Alumnus Receives National Medal of Technology and Innovation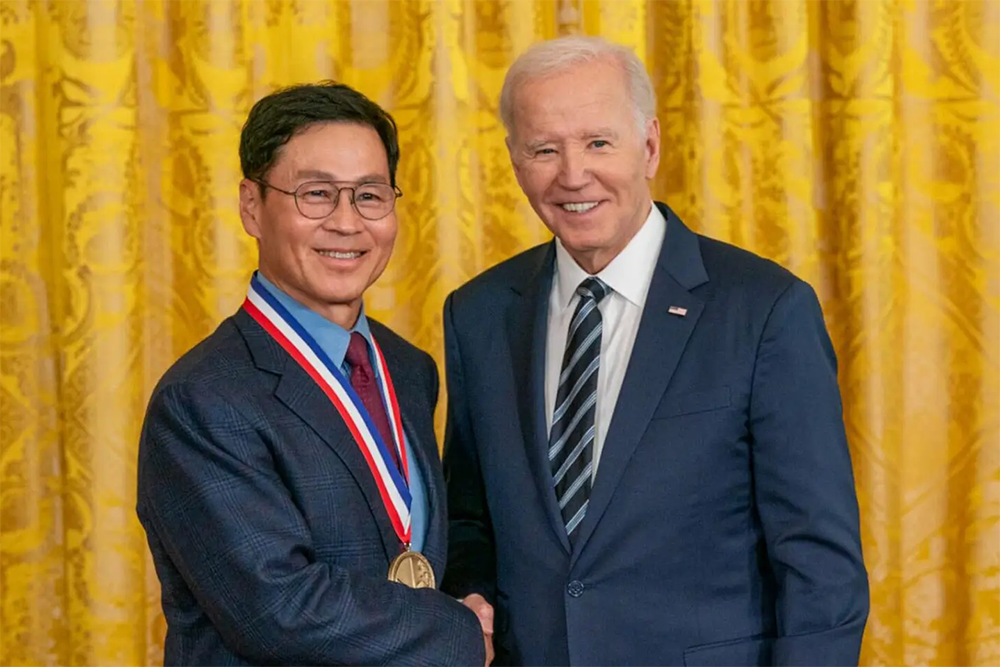 This story appeared originally in Maryland Today.
President Joe Biden yesterday awarded the National Medal of Technology and Innovation, the nation's highest award for technological achievement, to a University of Maryland (UMD) alum, faculty member and benefactor.
Jeong H. Kim Ph.D. '91, namesake of the A. James Clark School of Engineering's administration and interdisciplinary research and education building, was recognized for his advances in broadband optical systems, data communications, and wireless technologies that have made communication faster and clearer, including improvements in battlefield communications that strengthen national security.
The White House honored the entrepreneur among 11 American innovators whose "vision, intellect, creativity, and determination have strengthened America's economy and improved our quality of life." Kim joins Robert E. Fischell M.S. '53, Hon. Sc.D. '96 (for whom the Clark School's bioengineering department and biomedical devices institute are named) as a recipient of the award.
"The greatness of a country is measured not only by the size of its economy and the strength of its military," Biden said at the ceremony, which also honored nine National Medal of Science awardees. "That is also measured by its boldness, by the science, quality of its research and the progress it helps bring forth for not only the country, but the whole world."
Kim is chairman and co-founder of Kiswe Mobile, an interactive mobile video company that transforms the often-solitary experience of mobile sportscasts and other live events into something interactive, community-driven and fun. He previously founded Yurie Systems, eventually selling it for $1.1 billion to Lucent Technologies, where he stayed another 15 years, including as president of Bell Laboratories.
"What I tell my children is, be a good person, be a knowledgeable person, and a successful person, but in that order," he said in a video released by the White House.
Kim came to the U.S. from Korea at 14 speaking little English; despite this, he finished high school a semester early while living in a teacher's basement and was granted a scholarship to Johns Hopkins, where he finished his bachelor's degree in electrical engineering and computer science in just three years. He pursued his master's degree while serving full time in the U.S. Navy.
He earned the first doctorate in reliability engineering to be awarded at the University of Maryland, a degree he completed in two years.
"When you have lived a life … a tough life, then you feel like, you know, you've got nothing to lose, and everything's an opportunity," he said. "Most people think the chance of success is less than 5%. But 5% is good enough for me."
Kim went on to invent and commercialize asynchronous transfer mode technology on battlefields. Asynchronous transfer mode is a technological system developed for both local and wide area networks and designed to handle data as well as video and voice traffic at the same time. The system architecture makes use of switches that set up logical circuits at both ends of the data stream, which ensures unprecedented quality of service.
He is a member of the National Academy of Engineering and has served on boards including Samsung Electronics and the Nuclear Threat Initiative. Kim was recognized by the U.S. Pan-Asian American Chamber as one of the Top 10 Most Influential Asian Americans in Business, and in 2014 received the Legion of Honor from the French government for his service in global technology research. In 2004, he was inducted into the Clark School's Innovation Hall of Fame.
Kim joined the Clark School faculty in 2002 as professor of the practice in mechanical engineering. In 2005, he made gifts to endow professorships, support scholarships and fund facilities at the Clark School, which named the Jeong H. Kim Engineering Building for him.
"Jeong Kim's contributions in the field of communications, national security, and wide area networks have made an incredible technological impact on a global scale," said UMD President Darryll J. Pines. "He exemplifies the power of American spirit, entrepreneurship and innovation, and is example to everyone in the University of Maryland community of achieving excellence and addressing the grand challenges of our time."
Clark School Dean Samuel Graham, Jr. said technology would not be where it is today without Kim's game-changing work.
"We're surrounded by great engineers at the A. James Clark School of Engineering: leaders who identified a challenge facing society and harnessed the entrepreneurial spirit to solve it. Jeong Kim is one of those remarkable leaders," he said. "We are proud to honor his profound contributions by continuing his legacy of impact."
Published October 25, 2023