Capstone Design Course on Electric Bikes Sprints Ahead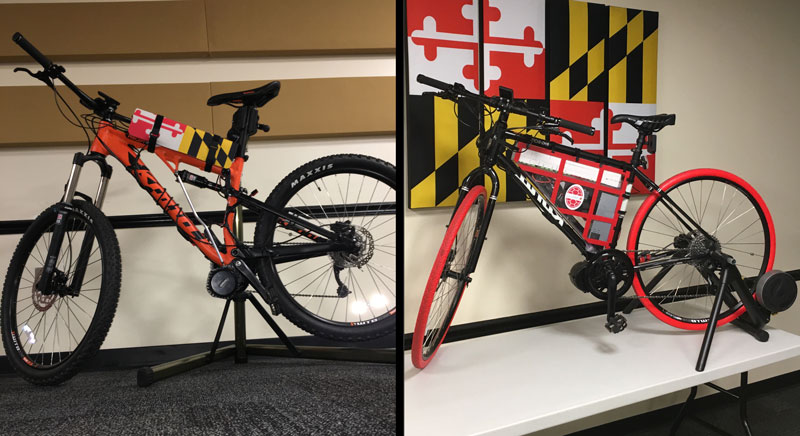 This spring, the Electrical and Computer Engineering Department at the University of Maryland offered a unique capstone course led by Professor and Associate Chair for Undergraduate Studies, R.D. (Mel) Gomez (ECE). Students worked on the design of safe, light and utilitarian electric bicycles for personal transportation.

The course utilized a combination of off-the-shelf and custom-made components with the intent to develop a prototype of a bicycle meeting one of several design challenges: an urban bike with extended range and fast charge capability, a mountain bike with superb terrain climbing ability, and a self-driving tricycle for autonomous transport. The vehicles were required to contain myriad sensors for safety and convenience, including GPS systems, on-board diagnostics, and theft deterrent systems. The vehicles also needed to be operable under different road conditions, at all hours, and in inclement weather.
In result, a team designed and prototyped the 408R-URB bike that can travel 50 miles in a single charge (roughly two round-trips from College Park, MD to the Washington Monument in Washington, DC), and can be charged to 80% capacity in less than two hours. A second team designed and prototyped the 408R E-Mountain Bike, which can climb the steps of UMD's Xfinity Center. The range of this bike is about 17.5 miles, which is enough to explore most back trails effortlessly.
"Designing projects that offer practical solutions to real world needs, and better than available on the market, are challenging but very gratifying," says Prof. Gomez. "Our students designed products that can be used as an alternative for cars in urban areas, or to explore off the beaten path. The course teaches students how to incorporate real world constraints such as safety, reliability, cost and manufacturability into their design thinking. In the future, the bar will be set higher: 125 miles range, using energy from renewable sources, energy regeneration, added sensors and actuators for safety and environment monitoring, self- driving bikes, and use of new materials for construction."
About The Bikes
The bikes incorporate several subsystems power-propulsion, charging, sensing and a user interface. For safety and legal reasons, the top speeds of the bikes are limited to 25MPH. The 408R-URB bike weighs 30 pounds, and the 408R E-Mountain bike is 28 pounds. Each bike has undergone extensive laboratory and test rides, and so far, have not failed. The urban bike uses an airless tire that cannot go flat. While many e-bikes are offered in the market, these bikes offer superior range, torque, convenience, and cost. There are no bikes like these commercially available today. If bikes like these were to be commercially made, the cost would be around $1,600.
Published August 24, 2017