Chellappa Wins Best Paper Award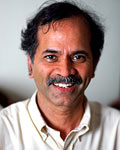 Minta Martin Professor of Engineering and ECE Department Chair Dr. Rama Chellappa received the Digital Signal Corporation Best Paper Award for his paper, "Propagation of Facial Identities in a Social Network" on October 1.
The IEEE Sixth International Conference on Biometrics: Theory, Applications and Systems (BTAS) presented the award to Chellappa, his former Ph.D. student Tao Wu and colleague Jonathon Phillips of the National Institute of Standards and Technology.
The BTAS 2013 conference was held September 29-October 2, 2013 and featured presentations by researchers from around the world. For more information on this year's winners, visit the BTAS 2013 website.
Published October 15, 2013