Clark School Alum Gives $10M for New UM Teaching Center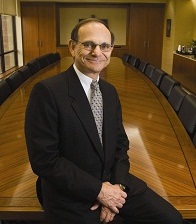 A landmark gift of $10 million from Baltimore developer, philanthropist and Clark School alumnus Edward St. John (B.S. '61, electrical engineering) will help create a long-sought, world-class teaching and learning center at the university: a high-tech classroom facility serving students campus-wide, and the first of its kind in a half-century at Maryland, officials say.
The proposed center will house large lecture halls and a series of classrooms, offering seating for nearly 2,000 students. More than a third of the undergraduate student body will attend classes there on a daily basis. All these spaces will be equipped with the latest classroom technologies, managed from a centralized technical service unit.

The gift represents a vital step toward bringing the Edward St. John Teaching and Learning Center to fruition. Gov. O'Malley and the legislature still have to approve state funding before the project can proceed.

"This signature building is destined to be one of the most popular and heavily-used on campus, and it is a dramatic step forward educationally," says University of Maryland President Wallace D. Loh. "This is one of our most needed facilities. Up to 10,000 students per day from across campus will learn there. It will give students every educational advantage that you'd expect from a world-class university. Without Mr. St. John's vision and generosity this educational center might well have languished for many more years."

The proposed $63 million center will be the first new building on campus in 50 years dedicated solely to classroom-use and the fundamental teaching and learning enterprise at the University.
St. John is chairman of St. John Properties, a company he founded in 1971. For 40 years, he served as the company's president and chief executive officer. It has developed, constructed, and maintained ownership of over 15,000,000 square feet of office, research & development/flex, industrial and retail space. The company serves business space requirements in Maryland, Colorado, Wisconsin, Virginia, and Louisiana. In addition, St. John Properties has developed residential and leisure projects in Louisiana.
St. John has been active in Maryland civic life and philanthropy. Through his Edward St. John Foundation, he actively supports education throughout Maryland and the Baltimore-Washington corridor.
Read the full university press release.
Published September 14, 2011