New Minta Martin Professors Named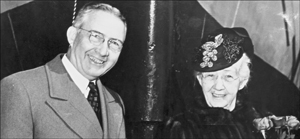 Six Clark School professors have been selected as Minta Martin Professors:
Minta Martin Professors are full professors who have made significant scholarly contributions in their areas of research. Previously named Minta Martin Professors include J. Gordon Lieshman (AE), Rama Chellappa (ECE chair) and Gary Rubloff (Department of Materials Science and Engineering and director of the Maryland NanoCenter).
This year's cohort of Minta Martin Professors was selected by a committee consisting of the following faculty members:
C.D. (Dan) Mote, Jr. (committee chair; Glenn L. Martin Professor of Engineering (ME) and former UMD president)
Herb Rabin (ECE/Mtech; senior associate dean and former interim Clark School dean)
Greg Baecher (Department of Civil and Environmental Engineering; Glenn L. Martin Professor)
George Dieter (ME; Glenn L. Martin Professor and former dean of the Clark School)
Minta Martin was the mother of Glenn L. Martin, the aviation pioneer for whom Martin Hall and the Glenn L. Martin Wind Tunnel are named, along with the Glenn. L. Martin Institute of Technology. In 1944, in commemoration of the 50th Anniversary of Engineering at Maryland, Glenn L. Martin made a gift of $1.7 million to the university to establish instruction and research in the aeronautical sciences. A second gift of $800,000, named in honor Minta Martin, was made the following year. Today this endowment is a major source of research funding for faculty, staff, and students in the A. James Clark School of Engineering.
Published July 19, 2012