Stamm Receives First Place Dean's Doctoral Research Awards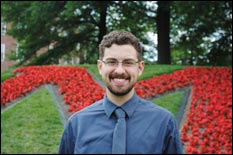 Matthew Stamm, a graduate student in the Department of Electrical and Computer Engineering, was awarded first place in the 2012 Dean's Doctoral Research Award Competition. Stamm is advised by Christine Kim Eminent Professor of Information Technology K. J. Ray Liu. Students from each of the Clark School's eight departments compete in this annual contest, which honors the best examples of high quality engineering research.
Stamm received the 2012 award "for outstanding research on digital multimedia forensics." His research interests are in information security, with particular focus on multimedia forensics and anti-forensics.
Stamm's research involves studying the mathematical properties of digital multimedia signals such as images or videos in order to determine if they have been falsified or manipulated. He does this by identifying mathematical "fingerprints" left in multimedia content by editing operations.
"This department works hard to give ECE students the best advantages and opportunities."
Additionally, Stamm has developed and studied "anti-forensic" operations that forgers can use to disguise their forgeries. By studying these operations, weaknesses in forensic techniques can be identified. Stamm has shown that anti-forensic operations can leave behind their own fingerprints, allowing investigators to detect the use of anti-forensics. He has also used game theory to understand the interplay between a forger and forensic investigator.
Stamm received his bachelor's, master's, and doctoral degrees in electrical engineering from the University of Maryland in 2004, 2011, and 2012 respectively. In addition to winning the Dean's Doctoral Research Award, Stamm has been the recipient of a Distinguished Teaching Assistant Award (2006), a Future Faculty Fellowship (2010), and the Ann G. Wylie Fellowship (2011). Before beginning his graduate studies, he worked at the Johns Hopkins Applied Physics Lab as a radar systems engineer.
When asked about the award, Stamm said, "I'm just lucky because I've had incredible mentors supporting me along the way." He stated that he had no idea that he had received the award until he saw the college-wide award announcement. He attributes his success to his mentors but also to the department, "This department works hard to give ECE students the best advantages and opportunities." For more information on the award visit the ECE website.
Published July 22, 2012