Department Hosts Inaugural Ford Future of Transportation Lecture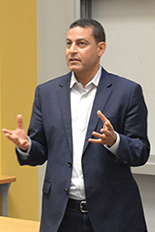 On Wednesday, February 21st, the Department of Mechanical Engineering hosted Sherif Marakby, Ford Vice President Autonomous Vehicles and Electrification, for the first Ford Future of Transportation lecture series. This new multidisciplinary series, sponsored by Ford, exposes students to the challenges and opportunities within the transportation field featuring industry, government and academic experts.
In his talk, Marakby discussed autonomous vehicles and their future in the industry, citing examples from work at Ford. Currently, Ford is focused on reaching level four on the Society of Automotive Engineers' (SAE) Autonomous Vehicle scale. Level Four states the vehicle is fully autonomous with driver not required in a geo-fenced area. In the next level, the vehicles would not require geo-fenced spaces.
From Marakby's perspective, the future of transportation will involve leveraging autonomous vehicles for services such as ride sharing and deliveries.
"Our emerging businesses in the auto world are about providing transportation for passengers and goods," said Marakby in his presentation.
In a similar vein, Ford recently acquired Chariot, a shuttle service that operates in Austin, San Francisco, New York and Seattle, to create the world's first self-sustainable mass transit system that relieves congestion and provides near-taxi convenience at a competitive price to mass transit.
Ford currently has autonomous vehicle partnerships with Dominoes, Lyft and Postmates to test these systems in real world environments. Marakby noted that these tests focus on "the last 50 feet" – or customer experience. Prototype elements include how customers interact with the vehicle, how to deliver the goods to the customer without a human and ensuring both customer and vehicle safety.
Clark School Dean and Nariman Farvardin Professor Darryll Pines kicked off the event with an introduction to Marakby and Ford on campus. Students from mechanical, electrical and computer engineering were in attendance, as well as students from the Robert H. Smith School of Business.
The UMD chapters of the American Society of Mechanical Engineers (ASME) and the Institute of Electrical and Electronics Engineers (IEEE) were co-sponsors of the event.
"It was a rewarding opportunity to listen to Marakby, as someone interested in mechatronics. To hear firsthand about what is occurring in industry from one of the leading forces was inspiring," said Nicole Convissar, Vice President of the UMD Chapter of ASME. "Marakby detailed much of the product development process, providing useful insight to the audience. Overall, Marakby's lecture was a wonderful time on a fascinating subject."
Marakby graduated from UMD with his Master's in Electrical Engineering in 1990.
Marakby joined Ford Motor Company in 1990 and served in a variety of positions in Product Development throughout North America and Europe. His roles ranged from having full responsibility of regional vehicles' powertrain and lineup to his role as the vehicle line director of all c-size cars globally. Marakby also worked in Plant Vehicle teams for several years, delivering significant quality and financial improvement to the business at two vehicle-manufacturing plants. Previously, Marakby was the former vice president, global vehicle programs, at Uber from 2016-2017.
(l-r) Clark School Dean Darryll Pines, Sherif Marakby, George Halow (Ford)
Published February 28, 2018